Spoiler Free Summary: Godzilla: King of the Monsters offers satisfying monster fights,  neat world building, and, surprisingly, lovely personalities from the monsters.  Unfortunately, the film falters from an insufferable character lead, unnecessary (and likable) character deaths, and being a glorified ad for the US Army.  Nonetheless, the film hits all the right marks for a Godzilla fan, let them fight!
Spoiler Review: It has been a long time since I left a theatre feeling so conflicted.  I knew going into this that Godzilla: King of the Monsters had already struggled with a low rating on Rotten Tomatoes but that still couldn't prepare me for what I saw.
Godzilla: KOM picks up five years after Legendary's first Godzilla film in 2014.  A very long gap, all things considered, with only one film, Kong: Skull Island, giving us relief in-between those films (with the unrelated Shin Godzilla to boot).  The Monsterverse (Warner Brothers answer to Disney's MCU) is still picking up steam and trying desperately to build its Titan-filled world.  Despite this, I think it does a great job with this world such as introducing hollow-Earth theories in Kong and continuing that with the underwater Atlantis scene in this movie.  Strangely enough, the film's end credits sequence did SO MUCH for world building and I really like that.
The reason why I'm bringing this up is that Legendary is doing a successful job simultaneously referencing the original Toho films while introducing new villains and monsters for Godzilla (and Kong to fight).  The best example is King Ghidorah, who sees probably the best version of himself (or himselves???) in the entire Godzilla franchise!!  A big claim, yes, but hear me out.  "Evil" monsters in Godzilla films are somewhat uncommon and are usually controlled by world-dominating aliens or from future white people.  Ghidorah is the pawn for these aliens and when the (usually) humans break the mind control plot device, Ghidorah becomes a rampaging monster, easily beaten by Godzilla and his allies.
This film establishes Ghidorah as an invasive alien from outer space which is most excellent!  It ties back to world building with Godzilla and the Titans bringing balance to Earth's climate and nature.  Naturally, Ghidorah, the invasive alien, wants to destroy that world and recreate it in its image.  Making Ghidorah not only control other Titans was smart but having him regenerate introduces a heighten level of threat that makes it extra scary.  Ghidorah also having three separate personalities is such a treat and something I never realized I needed until now.
Speaking of personality, Legendary boosted Godzilla's character trait in spades (thanks in part to a far longer screen time which was a big miss in the first Legendary film).  Godzilla is friendly, crotchety, and smart.  From eye movements to subtle facial expressions, this is a return of Godzilla that is all good.  A trait that I pined for a long time.  The majority of the most recent Godzilla films have seen him in the anti-hero or straight up the antagonist/villain role.  A "good" Godzilla hasn't been with us since arguably Godzilla: Final Wars in 2004 if not Terror of Mechagodzilla in 1975.  Godzilla allying with Mothra, the Earth's Guardian, only further seals his alignment.
Speaking of which, I was disappointed that we didn't see more of Mothra or Rodan but I'm satisfied nonetheless.  Rodan popping out of its volcano was a nice callback to its first film but having it being a flying lava-monster makes it so delicious.  As a side note, Mary and I also couldn't help but compare Rodan to Transformers' Starscream and Terrorsaur due to Rodan's quick reallignment towards Godzilla at the end of the film.  Mothra standing up against Ghidorah and Rodan was nice but seeing it sacrifice itself for Godzilla, giving him the energy to fight, was classic Mothra.  Glad to see another Mothra egg at the end credits!
Oh and the fights were so wonderful.  That first standoff with Godzilla vs Ghidorah was great with Ghidorah's wings outstretched against the blizzard.  It's great to see the monsters fight three times!  Godzilla biting off the head of Ghidorah was also very satisfying and surprised me.  The end fight was well done with Godzilla getting that nuclear boost and kicking Ghidorah's ass but then Ghidorah got the powerplant boost and I was like AHHHHHHHHHH!!!  I was on the edge of my seat!  Besides the animated Godzilla Planet movies, this is the first CGI fight of Godzilla vs Ghidorah and they didn't pull any punches!  Ghidorah lifting Godzilla up in the sky, Godzilla blasting off Ghidorah's heads (nice!!!), Ghidorah shooting lightning from its freaking wing tips, Godzilla's charge up sound effect, and so forth and so forth.  Nicely done!
One more thing before the bad stuff, the soundtrack for this film was top notch.  That was another big complaint I had in the first film, the original Godzilla theme was missing.  It's not a true Godzilla movie if it doesn't have those iconic themes.  But we got them!  IN SPADES.  The themes were repurposed with choir, they got Mothra's theme, they even got a cover of the Blue Oyster Cult's Godzilla theme which was so rad to hear.  The music really sold me here but I just wish they did a better job with sound editing cause goddamn I had to struggle to hear the music sometimes along with the characters.
Okay, enough with the gushing now for the ranting.  Damn these characters were annoying.  At least the first film had Brian Cranston even though he died a third of the way in.  Kyle Chandler's character Dr Mark Russell was the most annoying, blatant use of a white protagonist ever.  He was telling other, WAY MORE QUALIFIED, characters what to do even though HE HADN'T BEEN STUDYING GODZILLA.  Seriously, bugged the crap out of me.  In all honesty, they could cut his character entirely from the film and it wouldn't change much.  We could focus on the mother-daughter relationship and the experienced Monarch group can keep doing what they do best.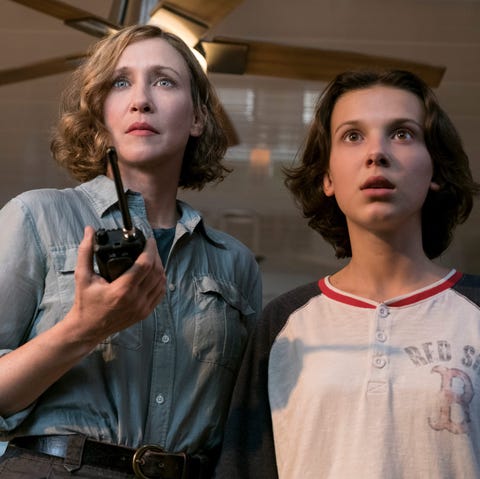 My distaste for the lead wouldn't be as nasty if it wasn't for the fact they killed both Sally Hawkins AND Ken Watanabe's characters who were both waaaaaay more likable than the lead even though they still didn't have a lot of personality (but at least they were tolerable which goes a long way).  I don't need interesting humans in a Godzilla film.
I don't know.  I know I didn't come to see a Godzilla film for the people but to make them this insufferable or boring is an achievement in a Godzilla film.  Millie Brown's character was okay and she did all she could for the material given to her.  I give her character points for being tenacious that's for sure.  I will also give points for the ORCA plot device, at least it gave a good tie in from the humans to the titans.
Finally, the US military irked me in this film.  Military in the Godzilla films are supposed to be ineffectual and only a super, sci-fi, weapon can take down Godzilla.  Sometimes, a non-destructive solution comes up to handle kaiju problems that are very cool like the coagulant juice in Shin Godzilla (or in this case, the ORCA device).  In this film, the US military, though mostly ineffectual, was still glorified to the umpteenth degree in this film and we didn't have any antagonistic military characters with the exception of Charles Dance's character (and even then he's British so it doesn't count!).  All this glorification is pretty funny when you compare it to Shin Godzilla and how the US military birthed Godzilla, tried to cover it up, failed, made the problem worse, and then wanted to nuclear bomb Japan.  Really says a lot especially when one film is produced by a Japanese studio as compared to an American one.  But that comparison is for another article…
Final Godzilla Movie Rating: 3.5/5  Overall, I have issues with this film but you know what?  At least they got the monsters right.  They hit the right notes again and again and I felt very satisfied by it, they introduced new concepts and ideas to the monsters and I appreciated them.  Hopefully, the human characters will be less annoying in Godzilla vs Kong but we'll see…I personally wouldn't count on it.  Thank God(zilla) though that it's coming out less than a year from now!
Random Godzilla References That I Was Able To Catch
-The Mothra Twins made a cameo through Zhang Ziyi's characters.  The fact that she is a third generation Monarch scientist makes it extra sweet.  Thank goodness she's coming back in the next film.
-Godzilla, Rodan, Ghidorah, and Mothra, first appeared together in a major crossover movie, Ghidorah the Three-Head Monster.  This united the films Godzilla, Rodan, and Mothra together creating an expanded series of Toho Monster films that span from the 1950s to the 70s.  In the film, Godzilla and Rodan fought each other before Mothra convinced them to set aside their differences and fight Ghidorah.
-Ghidorah's codename, Monster Zero, references his English title for the second film he appeared in, Monster Zero in 1965, who was from outer space.
-Kong was referenced several times in this film along with Skull Island, not sure how it ties in yet to the next film but I'm looking forward to it
-The Oxygen Destroyer, the thing that killed the very first Godzilla in his debut film, was introduced and, in my opinion, poorly handled in KOM.  It was shoved in at the last second and it was never mentioned again.  It didn't even kill Godzilla or Ghidorah. Tsk Tsk
-Godzilla becoming a nuclear meltdown seems to be a reference to Godzilla vs Destroyah where he was on fire and couldn't contain his nuclear energy.  The humans had to build an giant ice ray in order to cool down the king of monsters.
–