March 18th, 2020 Update: This article now includes Sword and Shield.
When people ask me which Pokemon type has the best Monotype (or Single Type) Runs out of all the types I unflinchingly respond with Normal.  In every single game of the series you can get a full team of unique Normal Pokemon, who are able to counter their main weakness (Fighting) easily, are found on the first route of the game, and can learn a diverse set of moves.  No other type comes even close to matching the diversity and early availability of Normal types.  But which games are the best of the best?  The ones you should play and the ones you should skip?  This won't be easy to decide so let's take a look.
But first…
RULES
Only Pokémon of a certain type may be caught and trained.
You must catch the first Pokémon available of that type if your starter does not match that type (you'll then have to discard that starter).
You may train a Pokémon that evolves to said type as long as you do it ASAP.
No trading allowed.
Only Pokémon caught before the Elite Four are counted.
Worst Games
This is a very hard choice and is among my most difficult decisions since I started writing these articles.  In every single game for a Normal run you get a unique team, early availability, great stats, and weaknesses covered.  There's no bad team at all.  Regardless of you choice you will have a fun time with your Normal team.  But if I had to choose…the Kanto games are a really rough start with Brock being the first gym leader and all.  You will have to level up a weak Rattata (cause your Pidgey and Spearow ain't gonna cut it) and just hope for the best.  At least in Sinnoh you get Bidoof and in Hoenn you have Whismur and Slakoth helping you.  Additionally, Black and White have among the lowest diversity of Pokemon so you will still get a full team but you might be scraping the bottom of the barrel.
Best Games
And now for the harder question.  With all the fantastic games out there for Normal Runs I would go for either XY or Moon/Ultra Moon or Shield.  I just like the diversity in these games and they provide a lot of dual Normal types that's not just Flying.  Moon, Ultra Moon and Shield, give it the win due to the version exclusives Drampa and Oranguru.  These two Pokemon will give you the edge as Drampa can learn AN INCREDIBLE amount of diverse, strong moves!  Meanwhile, Oranguru has that Psychic typing and that's pretty neat.  Add Snorlax and Bewear to your team and you're in for a fun time.
Normal Teams from the Pokemon Games
Red, Blue, Yellow, FireRed, Leafgreen
Ideal Team: Snorlax, Tauros, Clefable, Pidgeot, Chansey, Kangaskhan
Optional Pokémon: Porygon, Fearow, Dodrio, Raticate, Persian (Blue, FRLG), Farfetch'd, Lickitung, Wigglytuff, Ditto
First available Pokémon: Pidgey and Rattata in Route 1
Covers weaknesses? Yes!
Gold, Silver, Crystal, Heartgold, Soulsilver
Ideal Team: Pidgeot, Clefable (HGSS via Safari)/Wigglytuff, Dodrio/Togekiss (HGSS), Girafarig, Miltank, Tauros
Optional Pokémon: Stantler, Ursaring (S, C, SS), Fearow, Noctowl, Kangaskhan (HGSS via Pokewalker and Safari Zone), Lickitung, Ambipom (HGSS)/Aipom, Persian, Furret, Raticate, Ditto, Dunsparce, Farfetch'd
First Pokémon: Pidgey, Rattata, Sentret, and Hoothoot via Route 29 before the first gym. Kangaskhan, Doduo, and Spearow via Pokewalker.
Covers Weaknesses? Yes
Ruby, Sapphire, Emerald, OmegaRuby, AlphaSapphire
Ideal Team: Slaking, Swellow, Girafarig, Exploud, Wigglytuff, Dodrio
Optional Pokémon: Linoone, Kecleon, Zangoose (R, OR), Sawsbuck (ORAS), Porygon (ORAS), Delcatty, Spinda, Stoutland (ORAS), Chatot (ORAS), Unfezant (ORAS), Bouffalant (ORAS), Raticate (ORAS), Ambipom (ORAS), Pidgeot (ORAS), Lopunny (ORAS), Braviary (ORAS), Purugly (ORAS), Cinccino (ORAS), Audino (ORAS), Ditto (ORAS), Persian (ORAS), Stantler (ORAS)
First Pokémon: Zigzagoon in Route 101
Covers Weaknesses? Yes
Diamond, Pearl, Platinum
Ideal Team: Starraptor/Togekiss (Platinum), Clefable, Snorlax, Girafarig, Ambipom, Lopunny
Optional Pokémon: Bibarel, Chatot, Noctowl, Purugly (Pearl), Lickilicky (Platinum), Porygon (Platinum), Blissey
First Pokémon: Starly and Bidoof in Route 201
Covers Weaknesses? Yes
BW
Ideal Team: Stoutland, Unfezant, Cinccino, Audino, Sawsbuck, Bouffalant
Optional: Watchog, Braviary

First Pokémon: Patrat and Lillipup via Route 1 before first gym
Cover weaknesses?  Yes
B2W2
Ideal Team: Stoutland, Unfezant, Clefable, Sawsbuck, Bouffalant, Zangoose
Optional: Watchog, Braviary (W2), Dunsparce, Raticate, Delcatty (W2)/Lopunny (B2), Eevee, Cinccino, Castform, Audino, Ditto
First Pokémon: Lillipup via Route 19 before the first gym
Cover weaknesses?  Yes
XY
Ideal Team: Snorlax, Pidgeot, Tauros/Miltank, Pyroar, Heliolisk, Wigglytuff
Optional Pokémon: Diggersby, Linoone, Swellow, Staraptor, Dodrio, Dunsparce, Delcatty, Farfetch'd, Furfrou, Furret, Audino, Smeargle, Kecleon, Exploud, Zangoose, Bibarel, Fearow, Watchog, Chatot, Noctowl, Kangaskhan, Spinda, Ursaring, Lickilicki, Ditto
First Pokémon: Bunnelby, Fletchling, Zigzagoon, and Pidgey via Route 2, before the first gym
Weaknesses Covered? Yes
Sun, Moon
Ideal Team: Toucannon, Tauros/Drampa (Moon), Snorlax, Wigglytuff, Bewear, Oranguru (Moon)/Miltank
Optional: Raticate, Blissey, Braviary (Sun), Fearow, Staraptor (scan), Slaking (scan), Gumshoos, Smeargle, Spinda, Stoutland, Kangaskhan, Ditto, Komala
First Pokémon: Yungoos and Pikipek via Route 1
Cover weaknesses? Yes
Ultra Sun, Ultra Moon
Ideal Team: Toucannon, Tauros/Drampa (UM), Snorlax, Wigglytuff, Bewear, Oranguru (UM)/Miltank
Optional: Raticate, Blissey, Pyroar, Pidgeot (scan), Lopunny, Braviary (US), Fearow, Gumshoos, Smeargle, Spinda, Stoutland, Kangaskhan, Ditto, Komala, Furfrou, Noctowl, Kecleon, Cinccino
First Pokémon: Yungoos, Pikipek, and Buneary via Route 1
Cover weaknesses? Yes
Sword and Shield
Ideal Team: Bewear, Heliolisk, Unfezant, Oranguru (Shield)/Indeedee, Drampa (Shield)/Obstagoon, Snorlax
Optional Pokémon: Diggersby, Noctowl, Braviary (Sword), Cinccino, Greedent, Dubwool, Persian, Ditto
First Pokémon: Wooloo and Skwovet by overworld (15% and 50%) and Hoothoot and Skwovet by random encounters (5% and 50%) via Route 1.
Weaknesses Covered? Yes
MVP (Most Popular Pokemon)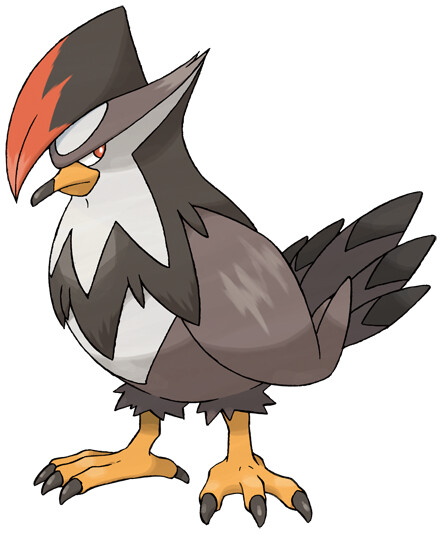 Your Bird Pokemon
Normal/Flying is the most common dual type combo in Pokemon.  Because of which, these guys are the main reason why you can neutralize your Fighting weakness.  Plus, you are more than likely to find one within the first route of the game (Black and White are the only exceptions to this).  The early availability of these guys means you can train a Pokemon that can become relatively powerful from the start.
The sheer abundance of these birds means they are scattered throughout the games.  No one, individual bird is more common than the others excluding the Fearow and Pidgeot lines which are rather abundant.  Later games also have multiple birds so you can even pick which one you want (Team Starly for the win!).
The biggest drawback in training these Pokemon are their additional weaknesses and limited movepool.  You have a hard beginning for the Kanto, Sinnoh, and Hoenn games due to the Rock-inclined gym leader so be prepared to rely on your area-exclusive rats.  Your birds will primarily learn Normal and Flying moves and, in later generations, Fighting moves and U-turn.  Thankfully, you can teach them Steel Wing via TM which can neutralize the likes of Ice and Rock Pokemon.
Available in: Every Game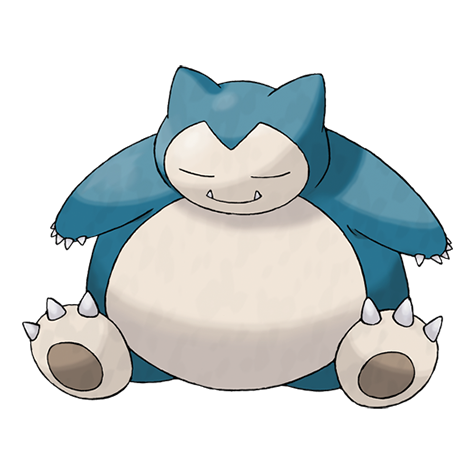 Snorlax
The sheer commonality and abundance of Normal Pokemon means you will not see many repeating Pokemon from generation to generation.  Thankfully, Snorlax is surprisingly common and given its notoriety and its strength is a welcome addition to any Normal Team.
Snorlax's main function is to hit hard and absorb special attacks like a champ.  A lot of people just have Snorlax use Curse a few times (which lowers Speed but ups Attack and Defense) and then go to town on its opponents.  Snorlax's trademark move, Rest, can be used to regain HP and lose any debilitating status and you can have it use Sleep Talk to randomly pick a move and use it against your opponent while you're napping (although there is a chance it would pick Rest and the move would just fail).  And then there's the straight up attacking moves like Body Slam, the Elemental Punches, Earthquake, Crunch, and so forth.
Alright, so here's the downside; Snorlax has shit Speed.  But you knew that already, right?  You don't train a Snorlax for its agility.  But what you probably didn't know is that Snorlax has a pretty mediocre Special Attack.  Which is such a shame!  It can learn Flamethrower, Ice Beam, Thunderbolt, Psychic and Shadow Ball!  You'd honestly be wasting your time teaching Snorlax these moves unless…if you teach your Snorlax via TM Work Up, then you can raise its Special Attack stat to a decent level.  The problem with that is that it also raises your Physical Attack as well.  So…you might as well keep using your physical moves if that's the case!
Available in: RBY, FRLG, DPP, XY, SM, USUM, SWSH
Drampa
Okay, so here's the problem.  Normal Pokemon in general, just suck when it comes to their Special Attack stat.  There are only a few Normal Pokemon that have a Sp. Attack stat 100 or greater and even fewer that you can catch within the rules of the run (even Fighting has a better Special Attack stat than Normal).  So your team will be mainly physical based.  Which is a shame considering the vast amount of moves Normal Pokemon can learn.  That's why you need Drampa.  Drampa is tied for the highest Special Attack stat for Normal Pokemon at 135.  Only Porygon-Z and Mega Pidgeot can match it.  Even Arceus falls short of its stats!
Drampa's Special Attack stat is used to its full extent.  The amount of moves Drampa can learn is stupid ridiculous.  It can learn Hyper Voice, Surf, Thunderbolt, Ice Beam, Flamethrower, Extrasensory, Signal Beam, Focus Blast, Hurricane, Dragon Pulse, Energy Ball, Shadow Ball, and others.  Use these moves to fill in the gaps that your team lacks.
Drampa's two biggest downsides are its availability and its speed.  You can only find it (so far) in three games so its pretty exclusive…It's speed is also horrendous, just a smidge better than Snorlax.  But unlike Snorlax, it doesn't have the bulk to take hits very well and dish them back.  Just be prepared to retreat if you see any Fairies!
Available in: Moon, Ultra Moon, and Shield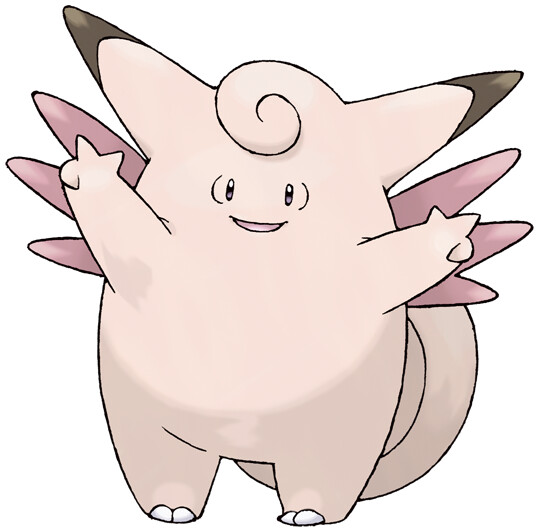 Togekiss and Clefable
It's easy to overlook the Pokemon that changed to Fairy Type but don't forget them!  If you want a Normal Pokemon with a strong Special Attack stat then look for these guys.  They can learn a wide range of elemental attacks and use them very well.  But man, Togekiss' stats are ridiculous.  It takes hits no problem but that Special Attack is to die for.  120!  It's 120!  And it can learn Aura Sphere and Air Slash!  Just send this bad boy out and go to town!
Here's the but.  And the but is two buts named Shiny Stone and Moon Stone.  Depending on the game, they can be real easy or a pain in the butt to acquire.  There's no consistent way you can find these stones so I'll leave that up to you to find out how to get them.
Available in: RBY (Clefable), FRLG (Clefable), DPP (Clefable and Togekiss in just Platinum), HGSS (Both), and B2W2 (Clefable)
Tauros and Miltank
The sheer commonality of Tauros and Miltank is the principal reason why they are on this list (that and their 490 Base Stat Total).  It just floors me how common these guys are.  You can get a Tauros of course back in Red and Blue days but when Miltank comes along in Gold and Silver, these two are together.  If you find one, you're sure to find the other (except Kanto, because of course, it's Kanto).
Okay, so you have your choices then.  Tauros is the physical attacker and Miltank is the sponge/healer.  Both fill these roles very well I have to say.  Tauros can learn Zen Headbutt upon leveling up and Wild Charge by TM and Miltank has the ability Thick Fat and the move Heal Bell.  But may I say, they're both pretty fast!  Like, damn Miltank, 100 Speed?  That's nuts.
Available in: RBY (Tauros), GSC (Both), FRLG (Tauros), Emerald (Both), DPP (Both), HGSS (Both), XY (Both), SM and USUM (Both)
Girafarig and Oranguru
Girafarig was the first Normal Pokemon introduced that wasn't paired with Flying.  As such, many people, including one of my close friends, commonly forgot about its Normal half and would use Ghost moves on it which would inevitably fail.  But this is the exact reason why this pairing is quite good as one weakness is gone completely (Ghost) and the other is neutralized (Fighting).  This sweet pairing means Girafarig and Oranguru should be on your team.
Although Oranguru has better stats overall than Girafarig, both of them have a 90 for their Special Attack.  Not bad, not great, but definitely better than the average Normal Pokemon.  Use this to your advantage for the likes of Thunderbolt, Energy Ball, and Shadow Ball.  They're definitely a nice counter to your Fighting and Ghost problems.  Of course, I wouldn't blame you if you forego'd these Pokemon.  If you want an all-physical team then be my guest!
Available in: Girafarig for GSC, RSE, DPP, HGSS, and ORAS;  Oranguru for Moon, Ultra Moon, and Shield