Warning: this article contains spoilers for "Return of the Obra Dinn"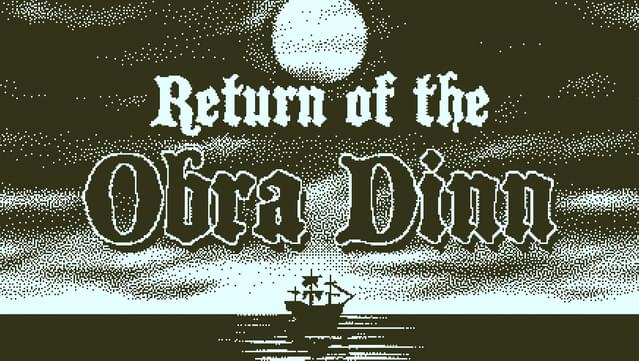 It's been a year and a half since I first played the hit indie game "Return of the Obra Dinn" and I still can't stop thinking about it. It has become one of my favorite games in recent memory and there's nothing else quite like it. The visuals are unique, the soundtrack is great, but the gameplay really sells it. You investigate a ghost ship and determine what happened to it using the Memento Mortem, a pocket watch that reveals the last things a person heard and saw before their death.  Once you correctly identified three people and their cause of death, the journal given to you will lock their fates in place affirming your deductions.  Through these death scenes and context clues, you are able to piece together the Obra Dinn's story and (mostly) figure out what transpired.
I first became aware of this game through one of my favorite Youtubers, Game Makers Toolkit, who did an episode on detective games. At the time, the game hadn't been released yet but he commented on it and thought it would likely be a good mystery game. Turns out, he was right! He, and other reviewers, praised "Return of the Obra Dinn" and awarded it for its unique and fun gameplay. After I saw his 2018-best-of video, I decided that it was time I tried it out as well.
To say the least, this is one of those games that I never knew wanted until I played it. I love playing mystery games.  I enjoyed all the Phoenix Wright and Professor Layton games, full-motion-video games like "Contradiction!," "Her Story," and "The Shapeshifting Detective," visual novels like "Danganronpa," and the unique mix-and-match setup of "Tangle Tower."  The list goes on. But of all the games I played, I honestly think "Return of the Obra Dinn" is my favorite mystery game despite it's very nontraditional-Mystery Genre setup.
First, there are many things that a mystery game should excel at for its audience like
It should give you clear question(s) for you to solve and work towards
You should be able to collect and analyze clues and determine their importance to the mystery (some games only give you the bare essentials while Sherlock Holmes gives you waaaaaay too much useless information)
You should work for your answer without spoon feeding it (unlike Phoenix Wright)
It should give you a wide range of possible answers that you can systematically eliminate (many Layton games don't even give you the option to figure out the crime).
It should make it hard to guess the correct answer but at the same time not make it too frustrating ("Contradiction" was unfairly hard)
Plot twists are welcome but shouldn't be so far left field that there was no way you could've guessed the correct answer (Layton is a frequent victim of this which is why normally he answers the mystery and not the player)
It shouldn't overly criticize the player for mistakes or wrong answers (the full-motion-video Sherlock Holmes games made me feel dumb)
And if there are any fantastical elements, it should be constrained to a very strict, easy-to-understand rules (which "Danganronpa 2" miserably failed at)
This is a very tight rope to balance and it's easy for one of these key features to disappoint the players.  With few exceptions, "Return of the Obra Dinn" excels at these standards.
It gives me a clear question: "What happened to the Obra Dinn its crew?"
It allows me to analyze a whole suite of clues that are neatly arranged like the crew list, the ship map, the sketches, and of course, the memories.  Using these pieces of evidence, I can make reasonable assumptions on who is who.
The watch has some clear usage rules (find a dead body and activate the memory) if there's another dead body in the person's memory you can reactivate the watch again and see that corpse's memory.  The watch and journal follow their stringent rules tightly but still find creative outlets like the watch's effect on dead animals (or beasts) or the journal documenting the disappearance of certain souls.
Speaking of the beasts, they themselves do not confuse the cause of death and make it very clear what transpired (strangulation, spiked, and etc.).  If there is some debate of the cause of death there can be multiple right answers (e.g., a seaman died from a cannon blast that was pointed to them by the kraken's tentacles, yet the cannon was lit by a another seaman, which one is the murderer?  Both answers are correct in this case)
I love that I don't have to answer a series of multiple choice questions.  I want to be in control of this detective story and I don't want the game tell me I'm ready to solve it.  Throughout the whole game I have to answer just two questions for all sixty souls, "Who is this?" and "What is their fate?"  The simplicity makes the game satisfying to solve.
I don't feel stupid while playing the game.  In fact, if you play it smartly, you can have two souls that you're positive on, and then work on a harder third soul and play around with the names until you land on the correct answer.  Even so, when you have an incorrect entry, the game doesn't ring an incorrect buzzer or deduct points (it straight up doesn't have any).  It's the story that matters and that's it.
Granted, there is some guessing, especially near the end of the game for the countless seamen but by then you are pretty close to solving it all and sometimes you just need to rearrange names a few times before you get it right.  Even then, this guessing doesn't feel cheated as, well, of course you're not able to get everyone's name 100% correct since it's not like they say their name out loud when they die…
And probably my favorite bit in the game is the "Eureka!" moment.  Hearing that string instrument gave me such joy as well as seeing my hard work deductions turn into correct answers.  God it's so good.
"Return of the Obra Dinn" left an impact on me that no other mystery game has come close to touching.  I wish I could magically forget and replay it just so I could have those satisfying "Eureka!" moments.  I did replay it again recently and it was still satisfying to solve as I forgot the countless souls on board and only remembered a few key clues.
Game Maker's Toolkit said it best that many mystery games use realism to try to create the perfect mystery game but that perfection leads to awkward gameplay and makes it hard to fully enjoy the game.  But "Return of the Obra Dinn"'s contrived setting changes the traditional Sherlock Holmes formula and completely restructures the mystery genre.  I'm hoping that other mystery games follow suit and gives us something exciting and different.  "Her Story" and "The Shapeshifting Detective" both are standouts that change the formula and excel in their new gameplay.  Hopefully other games follow suit but in the mean time, I'm hoping for a sequel to "Return of the Obra Dinn" in a different setting!  That would be awesome.
What do you think?  What has been your favorite mystery game and why?  Love to hear your answers!