If your favorite Pokemon type is Electric then I bring some good news for you as there are some great Pokemon games to do an Electric type run.  Admittedly, a Monotype (or Single Type) Run for Electric Pokemon can be hard as it ranks among the worst for movepool diversity and they can be quite rare but there are a few games out there that take care of this problem. So let's take a look at which games are the best, the worst, and which Pokemon you should have on your team.
Rules
Only Pokémon of a certain type may be caught and trained.
You must catch the first Pokémon available of that type if your starter does not match that type (you'll then have to disregard that starter).
You may train a Pokémon that evolves to said type as long as you do it ASAP.
No trading allowed.
Mega Pokémon count as long as you Mega Evolve them as soon as they appear on the battlefield.
Only Pokémon caught before Elite Four are counted.
Best Pokemon Games
For the Electric type, you want a team that's more about diversity and less about weakness coverage, so while there are a few teams early in the series that may be immune to Ground attacks, the Pokemon you'd train would be very restrictive.  As such, B2W2, XY, USUM, and SWSH are your best bets.  These teams favor Pokemon who can learn different move types and are available early which is very crucial for your team.
If you were to twist my arm I'd pick SWSH although B2W2 is my favorite for personal reasons (Magnezone, Eelektross, Ampharos, and Galvantula is a winning combo with a Mareep pre-first gym).  SWSH has the most diverse Electric team out of any of the games and these Pokemon are strong; two fossils with great type combos (Arctozolt and Dracozolt), an amazing rock star (Toxtricity), two bugs (Vikavolt and Galvantula), a  form-changing poltergeist (Rotom), and a host of supports (e.g., Jolteon, Pincurchin, and Boltund).  This team is pretty great and you get a bunch of them well before the first gym thanks to the Wild Area.
Worst Pokemon Games
Many Electric teams straddle the line between bad and okay and while their potential isn't as poor as the average Ice or Ghost team…they're still not good.  The worst Electric team is probably Pokemon Crystal.  Mareep, for some reason, is not available in that game.  In Gold and Silver you can catch one just after the first gym but here they are gone and you'll catch a Magenmite instead after the second gym.  This drops your team diversity below six Pokemon as well.
People make fun of Diamond and Pearl for their lack of Fire Pokemon but the same can be held true with Electric which has the lowest Electric diversity with just three Pokemon!  And it's just a horrible team setup; Pachirisu, Raichu, and a Luxray.  Yeesh.  At least Crystal had Lanturn.
Electric Pokemon Teams
Red, Blue, Yellow, and FRLG
Ideal Team: Raichu/Pikachu, Electrode, Electabuzz (Red, FireRed), Magneton, Jolteon, Zapdos
First Pokémon: Pikachu in Viridian Forest or Pikachu as a starter in Yellow
Covers weaknesses?  Yes
Gold, Silver, Crystal, and HGSS
Ideal Team: Raikou, Ampharos (G, S, HG, SS), Magneton, Lanturn, Electrode, Jolteon
First Pokémon: Mareep via Route 32 after first gym (except Crystal which would be Magnemite Route 38 after the second gym). Via Pokewalker Magnemite (Suburban Area at 1000+ steps), Elekid (Suburban Area at 5000+ steps), and Voltorb (Town Outskirts at 3000+ steps) are available.
Covers Weaknesses? No, Ground is not neutralized.
Ruby, Sapphire, Emerald, and ORAS
Ideal Team: Manectric, Magneton/Magnezone, Lanturn, Galvantula (ORAS), Jolteon (ORAS), Eelektross (ORAS)
Optional: Minun/Plusle, Electabuzz (ORAS), Zebstrika (ORAS), Electrode, Luxray (ORAS)
First Pokémon: Electrike, Plusle, and Minun can be caught at Route 110 after the second gym in ORAS (as well as Magnemite by Horde).  In RSE you can skip the second gym by giving Steven the letter, take the boat to Slateport, and capturing your Pokemon on Route 110.
Covers Weaknesses? Yes for ORAS but in Ruby, Sapphire, and Emerald, Ground is not neutralized.
Diamond, Pearl, and Platinum
Ideal Team: Luxray, Raichu, Jolteon (Platinum), Rotom (Platinum), Magnezone (Platinum), Electabuzz (Platinum)
Optional: Pachirisu
First Pokémon: Shinx in Route 202 before the first gym
Covers Weaknesses? Only in Platinum, in Diamond and Pearl the Ground type is not neutralized.
Black/White and Black 2, White 2
BW Ideal Team: Zebstrika, Emolga, Galvantula, Eelektross, Stunfisk, Zekrom 

First Pokémon: Blitzle via Route 3 after the first gym
Covers weaknesses? Yes
B2W2 Ideal Team: Ampharos, Magnezone, Electabuzz (W2)/Jolteon, Emolga, Galvantula, Eelektross
Optional: Zebstrika
First Pokémon: Mareep via Floccesy Ranch before first gym
Covers weaknesses? Yes
X and Y
Ideal Team: Heliolisk, Lanturn, Rotom, Magnezone, Ampharos, Stunfisk
Optional: Manectric (Y), Jolteon, Pachirisu, Raichu, Emolga, Dedenne, Electrode, all the other Rotom forms
First Pokémon: Pikachu via Santalune Forest, before 1st gym
Covers weaknesses? Yes
Sun, Moon, and UltraSun, UltraMoon
SM Ideal Team: Vikavolt, Golem, Magnezone, Raichu, Oricorio, Electabuzz
Optional: Togedemaru, Jolteon, Lanturn
First Pokémon: Pichu and Grubbin via Route 1
Cover weaknesses? Yes
Note: You can get an Alolan Golem via in-game trade at the Tapu Village Pokemon Center, you will need a Haunter.
USUM Ideal Team: Vikavolt, Graveler, Magnezone, Raichu, Oricorio, Electabuzz
Optional: Togedemaru, Jolteon, Lanturn, Ampharos, Manectric, Dedenne
First Pokémon: Pichu and Grubbin via Route 1
Covers weaknesses? Yes
Sword and Shield
Ideal Team: Vikavolt, Toxtricity, Wash Rotom, Galvantula, Dracozolt, Arctozolt
Optional: Manectric, Jolteon, Other Rotom Forms, Boltund, Raichu, Morpeko, Togedemaru, Pincurchin, Heliolisk
First Pokémon: Grubbin by random encounters (10%) via Route 1.  Yamper will follow soon after on Route 2 by overworld (5%).
Covers weaknesses? Yes
MVP (Most Valuable Pokemon)
Unlike other types, there's no one Pokemon or group of Pokemon I can point to and definitely say this is the best and you need to have it on your team.  Electric Pokemon are boosted or hampered by their availability, stats, abilities, type combos, and move diversity, so saying one is the true MVP would be foolish.  So instead, I'm listing seven great Electric Pokemon alphabetically.  There are many others that can be included but I didn't want to go overboard.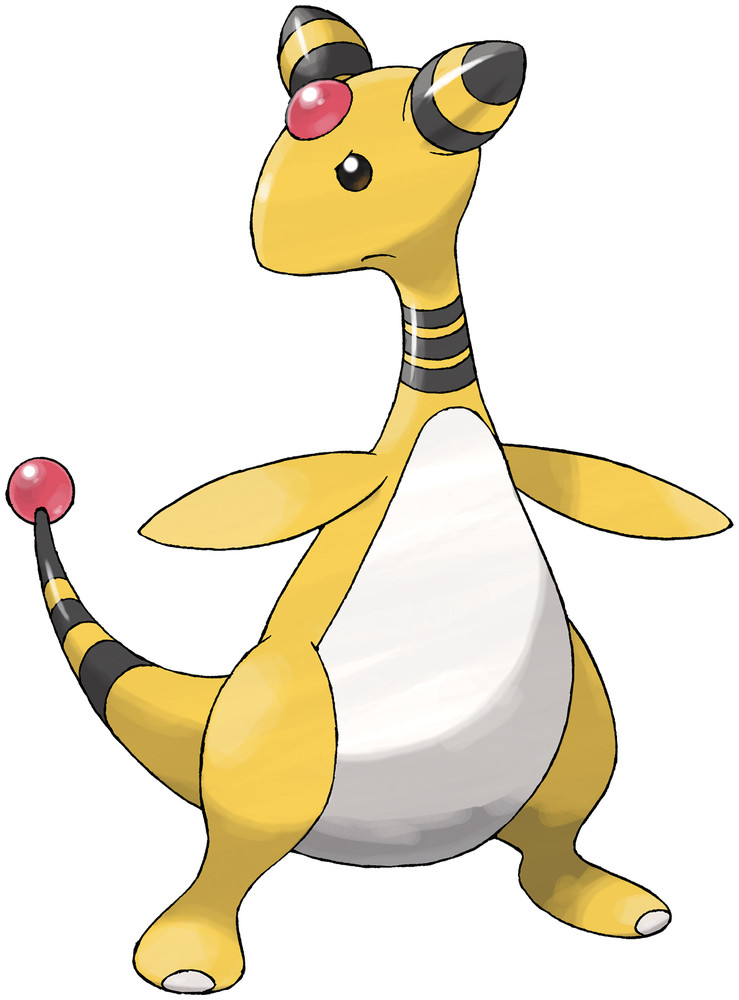 Ampharos
Ampharos is a Pokemon that becomes better and better as the generations progress mainly thanks to the variety of moves it can learn!  Starting with just Fire Punch and Iron tail (by TM), Ampharos took an upgrade and acquired new moves through standard level up!  By Gen 4 it can learn Power Gem and Signal Beam and by Gen 6 it can learn Dragon Pulse!  And with a nice 115 Special Attack and hefty bulk, this is an Electric Pokemon that can survive hits and deal them back!  Ampharos' is held back by its scattered availability but at least its pre-evolution Mareep is usually found early in the games.
Available in: GS, HGSS, B2W2, XY, USUM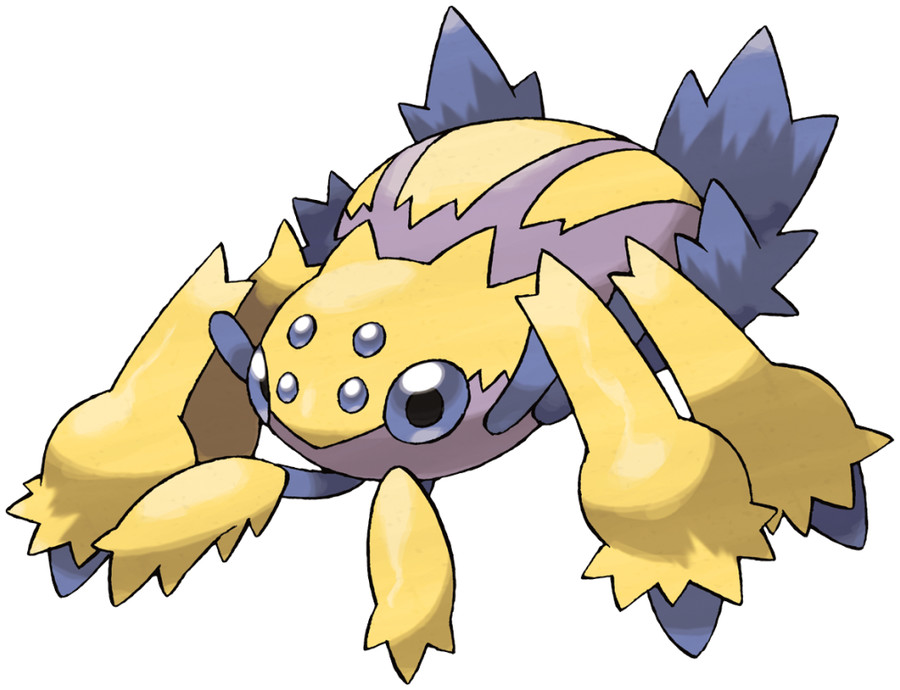 Bug Pokemon (Galvantula and Vikavolt)
Galvantula and Vikavolt neutralize your Ground weakness which is nice but they're here because of their moves, abilities, and stats.  Starting with my OG Galvantula, you gotta find one with Compound Eyes ability because that will increase his accuracy which means you'll have a Thunder attack with 91% accuracy!  Paired that with Bug Buzz and Energy Ball and you have a fast spider that can hit a lot of Pokemon at least neutrally effective.  Galvantula is frail though so get him out of there with Volt Switch!  Vikavolt is much slower but makes up for this with its bulk and higher Special Attack.  It also has that sweet Levitate ability!  It can also learn Energy Ball as well as Air Slash which is great.  Both of these bugs as such can be a soft Ground counter but be wary of Rock moves!
Available in: Galvantula in BW, B2W2, ORAS, SWSH and Vikavolt in SM, USUM, SWSH
Eelektross
Electric Pokemon are among the worst types for Physical Attackers favoring Speed and Special Attack instead.  Fortunately, Eelektross has an impressive 115 stat for Physical Attack (and a very nice 105 for Special Attack) so if you want a brute then get this guy!  Eelektross is also one of the best Electric Pokemon for move diversity with such moves as Flamethrower/Fire Punch, Crunch, Giga Drain, Aqua Tail, Brick Break, and Rock Slide.  If you really want to be smart you teach it Coil (ups Attack, Accuracy, and Defense), and teach it Drain Punch, Wild Charge, and Superpower.  It's a risky but fun moveset!  (Also helps that Eelektross' Levitate Ability pairs nicely with Aqua Tail and Giga Drain).
Biggest setback is you need to train its first stage, Tynamo, up to Level 39 before you can evolve it and then evolve it again with a Thunder Stone.  Also…Elektross is uncommon so unfortunately you won't run into them often.  Even in Generation 7 you can only catch one after the Championship which breaks the rules of the run.  Bummer.
Available in: BW, B2W2, ORAS
Lanturn
The Light Pokemon will be a shining beacon for your team.  Lanturn carries moves that very few other Electric Pokemon have namely Water (Surf and etc.), Fairy (Dazzling Gleam), and Ice (Ice Beam and etc.) type.  Water and Ice are especially nice if you're in a pickle against some Rock and Ground types but it comes with the risk of being OHKO'd by an Earthquake or a decent Mud Bomb.  You also have some interesting move choices to consider like Aqua Ring, Confuse Ray, Scald, and Thunder Wave to debilitate your enemies and the Volt Absorb ability could be used to regenerate your health by friend or foe.  Unfortunately, Lanturn is hurt by a below average Special Attack (76) and doesn't have a way to raise it through Calm Mind and such.
Available in: GSC, RSE, HGSS, XY, ORAS, SM, USUM
Magnezone Family
Although Magnezone and its pre-evolutions have a 4x weakness to Ground attacks it's a really good defensive Pokemon with among the highest stats for Defense and Special Defense for Electric Pokemon and its Steel combo gives it the most resistances and immunities out of any Pokemon. In fact, it's the second strongest, non-Mega, non-Legendary Electric Pokemon, just behind Electivire (but Magnezone doesn't need to trade to evolve!).  It also has a beastly 130 Special Attack so teaching it Thunderbolt and Flash Cannon will do massive damage to many foes.  Unfortunately, it is really limited by its move diversity.  It's basically going to be those two types and that's it!  Sure it can learn Signal Beam but many Electric Pokemon can learn that so it's not too special.  At least it's quite common!
Available in: Magneton in RBY, GSC, RSE, FRLG, HGSS and Magnezone in Platinum, B2W2, XY, ORAS, SM, USUM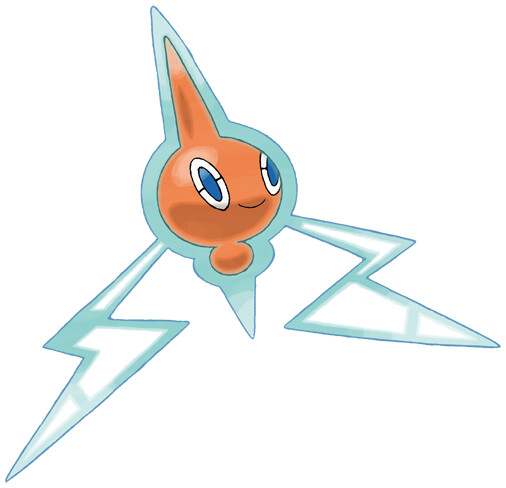 Rotom
One of my favorite Pokemon ever, Rotom is a must have member due to its moves, ability, and crazy form changes!  By itself, Rotom is fine and having one on your team in Platinum is pretty fun!  Very few Electric Pokemon can learn a strong Ghost move and paired with its Levitate ability gives you a soft counter to your Ground foes.  However, the main reason Rotom is here is its forms which you can access in later generations.
Rotom's five forms changes its Ghost type to match its new form (e.g. Heat Rotom becomes Fire/Electric) and gives Rotom a biiiig stat boost which makes Rotom a very nice tank with great Special Attack stats (105).  You can also learn some devastatingly powerful moves for each form which are Overheat, Blizzard, Hydro Pump, Air Slash, and Leaf Storm.  This gives you some much needed move diversity.  As you can tell, some of these moves have some trade backs like low accuracy (Blizzard/Hydro Pump) or drop of stats after use (Overheat/Leaf Storm).  You still get that Levitate ability though so for an Electric team a Wash Rotom is great because your immune to Ground attacks and can deliver a STAB Hydro Pump!
But man Rotom is a pain to catch.  I mean seriously.  A lot of times it's after the Championship like Diamond/Pearl and USUM.  And sometimes it's on a specific day (Tuesday in XY), a specific time (Platinum), or a specific weather condition (SWSH).  And getting the forms are harder with the only legitimate way to get them before the Championship is in XY or SWSH.  You really have to work hard if you want a Rotom.
Available in: Platinum, XY, SWSH