Spoiler-Free Review Summary: Despite no previous experience with Detective Grimoire, I was able to almost instantly fall in love with Tangle Tower thanks to its kooky characters, twisting story-line, hassle-free gameplay, and soothing music.  Fans of either Professor Layton or Ace Attorney would enjoy this point-and-click adventure game as time and time again I felt very happy and satisfied when clues came together and solutions arise.  The game's art style is incredibly appealing and unique and I love each characters' many expressions and voice acting.  The game's main shortcomings stems from its shortness as it can easily be finished in just a few sittings.  Because of which, the ending left a lot of questions unanswered and made me yearn for more (in both a positive and negative way).  Nevertheless, I eagerly look forward to more Detective Grimoire and Sally games by the small but impressive video game company SFB Games.
Overall Thoughts and Opinions (Spoilers): 
In the span of a few months Mary and I have played together two point-and-click (PaC) adventure games on the Switch; Thimbleweed Park and now Tangle Tower.  Of the two, I honestly think Tangle Tower does a better job with its concept and execution and left us more satisfied and less frustrated.  First, and foremost, Tangle cuts down on the frustrating pixel-hunting features that can plague PaC games including Thimbleweed.  It helps that objects are nicely drawn and recognizable which is further aided by Grimoire and Sally wry comments on said-object even when it has no relevant to the plot point.  This translates nicely to the puzzles (second), which did not feel frustrating as Mary and I fiddled with the gears, contraptions, and levers.  If we wanted a certain part to go in a certain place the part would snap to it without unnecessary fidgeting.  Finally, Thimbleweed was too full of itself and left an ending that was ultimately unsatisfying unlike Tangle which, despite some head-scratching unanswered questions (more about that later), overall left me satiated.
Overall, Tangle Tower was a fun and amazing time for Mary and I!  We loved it and found the game's laissez-faire approach to let us do our own thing very rewarding.  The clues and mysteries definitely reminded me of Professor Layton but handled better as we were the ones solving these crazy questions.  The game's intuitive approach of letting us mix-and-match solutions with nouns and verbs was a very fun process and something that was actually helpful if we weren't sure how to solve the question.   The lack of a penalty for incorrect guesses may make the game easy for some but to us it was still a rewarding experience.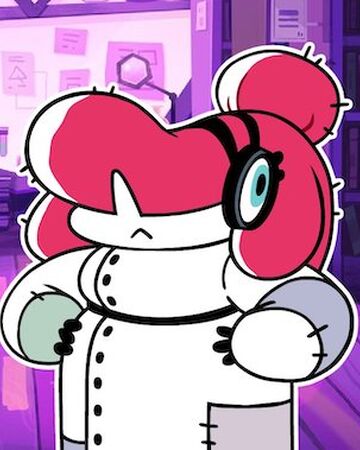 But God, those characters are just the real selling points.  I just love the way they're designed from Fifi's squashed body, mass-of-hair, and single eye, to Professor Pointer's melting face, rooftop hair, and squirming fingers.  And they all are just so beautifully animated with those squiggle lines and various dramatic poses.  You can tell that SFB Games has really placed a lot of love into this game further boosted by the years of programming experience they accrued.  Even our main characters have a sense of style to them and I especially like the sarcastic Sally with her three-sphere hair design and cute, tiny jacket.
Each character also has their own leitmotif and there are quite a few exploring themes as seen on the game's website.  This helps reduce the repetition and really hone in on a room's personality which is quite nice.  My favorite songs are ones that involved the piano with their slow and thoughtful tunes; part of me wishes the whole soundtrack was like that so I can listen to it while studying.  As a side note, the music and animation honestly remind me of the Microsoft computer games I grew up playing like Math Blaster or Magic School Bus.
So one of the things I like about Tangle Tower is that you can show each character either a clue or a character's portrait and with only a few exceptions out of the many combinations, the characters will respond with unique dialogue AND I LOVE THAT.  I'm so used to earlier PaC games, even Professor Layton and alike, to give generic dialogue when an irrelevant item is shown to a person ("I don't know what that is" or "I can't help you with that").  It helps that there's only like nine characters but still, the amount of dialogue in this game is tremendous.  And I like how the characters responses either reflect their personality, or give insight to a clue or another character, or point you to another character who could better assist you (it honestly reminds me of the Full Motion Video detective game "Contradiction!" which you all should check out).  One of the best examples of this is Poppy's old photograph and how everyone kept lying who the girl is even though they know full well it's Poppy.
These clues and character dialogue really make it fun to piece together the evidence and draw conclusions.  Mary and I would frequently bounce ideas and inferences off each other and usually by the time we had a great idea, Grimoire and Sally weren't far behind.  This created an almost frustration-free environment as some games, like Ace Attorney, I'm just impatiently waiting for the detective to catch up to me when I have already figured it out 20 minutes ago.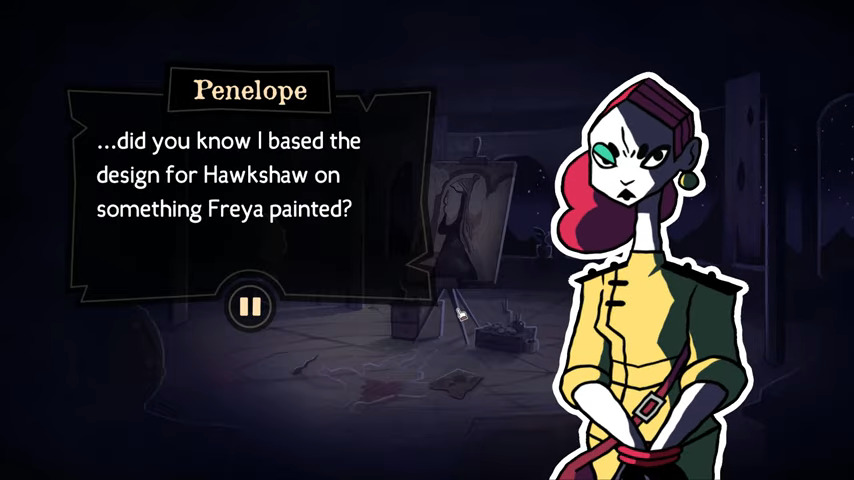 Unfortunately, many of the interesting plot points or character mysteries go unsolved or fall by the wayside at the end of the game.  I imagine that some of them acted as red herrings, to distract us from the bigger picture, and if that was the creators' intention then it certainly worked but it still doesn't explain some of the more pressing issues or confusing head-scratchers I felt should have been solved.
This includes but not limited to
Why did the lake rise and was that related to the new towers?
What was the other 10% of the Golden Beetle's shell made of?
When did Penelope switch the red ink with the blood when she had very limited time to escape the attic and change clothes?  Was it before Freya started painting?  Also, WHO'S BLOOD IS IT???
What happened to that Inkdip bird?
And then there's the other confusing evidence and plot points that I felt could've been straightened out a bit nicer like
Didn't Grimoire realize during the statements review that Felix CLEARLY said he heard two people going down the stairs???  I felt like that should've been addressed by him or Sally during their review.
How the hell did Penelope/Hawkshaw manage to change in and out of costume without raising any kind of suspicion?  I feel like that should have been noted by the family members.
Why did Penelope have to kill Freya exactly?  Even though Freya found out the family's secret was it going to jeopardize anything?
I think many of these problems stem from the game's rather rushed ending which seems to be the biggest complaint a lot of people have for this game.  I think Mary and I finished it in like 6 hours or so?  It wasn't very long that's for sure.  It was actually kind of funny because the first couple of chapters or so were pretty long and then all of a sudden they just kept coming bam, bam, bam, one after the other!  The introduction of the mystids, the ambassadors, and the secret rooms, were fine but I felt like we could've stayed on them much longer.  I wish I heard what the other characters thought about the ambassadors and the secret room.  I also wanted to explore all four of the mystids including the amphibious creatures.  If the game added an extra hour of gameplay I felt it could've wrapped it up a bit nicer and not as an exposition dump in the end.
At this point though I am nitpicking a very fun and smart game.  You know that feeling you get when you play something and realize it was something you didn't need until the moment you had it?  That was me for Tangle Tower.  It felt both new and familiar at the same time and I just love everything that made it for what it was.  I'm going to be playing "Detective Grimoire" after this but I got the sneaking feeling I won't be enjoying the game as much as this one thanks in large part to the art style but we'll see.  SFB Games, when you make another game, please include Sally in it as she really makes the game that much better.
Final thoughts and notes
I totally ship Fitz and Poppy, such a potentially cute couple
The creative puzzles were at the right level of difficulty.  That magnifying key puzzle was a bit of a pain but we got through to it in the end!
The damaged cassette tape was pretty creepy with the humming and all.
The map was amazing and definitely helpful to visualize where everyone was during the murder
Kind of disappointed that Penelope didn't have bird arms in the end
So Felix just straight up didn't carve a Fifi statue for Flora (her mom).  Yikes, poor Fifi.
Can we agree that Professor Pointer is a creep for peeping on Flora?
Love all the side conversations and settings of Tangle Tower, really hones in the history of the place.  I think this was most apparent for Freya's storage-turned-bedroom.  Really shows how the family thought of her.