I wrote recently about my love for the hit indie game "Return of the Obra Dinn" (ROD) but now I want to talk about something else on my mind, sequels.  "ROD" has a huge potential for creating other stories set in the same universe (not just the mystery aspect but all the dark, fantastical creatures that reside in this world) that you can easily make a mini series based on the game.  Now I want to say upfront that Lucas Pope, the creator of "ROD," doesn't seem like a fellow who would be willing to make sequels.  His previous game, "Papers, Please" was another indie hit that told a story that could only be done through video games.  He seems like a person who wants to create insightful stories revolved around unique concepts which I can respect.
But it's fun to create sequel ideas for such a fun concept so rather than dwell on the probably-nots, let's instead dream about the what-ifs.  What would a sequel to "ROD" look like?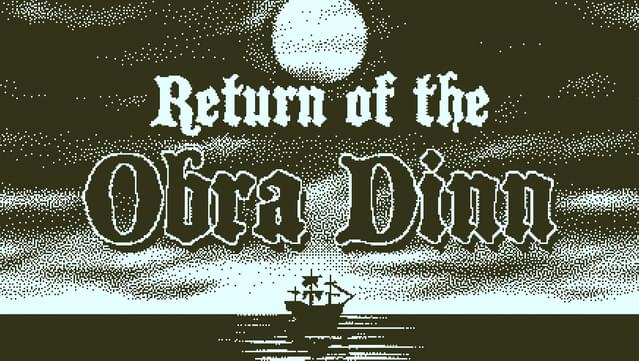 First, the Obra Dinn's story is told and done.  We don't need to come back to the ship or its characters.  Instead our sequel will revolve around the key item that makes the game work, i.e. the death watch itself, Memento Mortem.  Our "ROD" sequel's protagonist, who could be the same one as the first game but is not required, will investigate a mystery using the magical watch.
These sequels can also improve the gameplay and story from ROD.  In an interview on eurogamer.net, creator Lucas Pope said
"…I really like I can only tell story through moments of death, the instant when somebody dies. But to relay a story to the player is kind of tricky, because you can only tell them things when somebody dies. So first off, people have to be dying left and right, and you need a reason for people to be dying constantly. And that's sort of unusual, people don't generally die all the time. Getting that working with the story in a way that the player can understand took a long time."
To ease the burden of creating a story through death we can find other ways to tell this world's story.  First off, we can have more deaths that aren't human.  In "ROD," the watch worked not only on humans but on animals (the cow and the monkey) and beasts (the mermaids and the crab soldiers).  If we lean more heavy on the animal deaths, which are more common, we can find ways to continue the story without running out of bodies quickly.
The other way we can expand the story is through old fashion detective work.  When you're at the scene of the crime, you can read journals and observe items which can clue you in on the victims' identities.  After all, we're still trying to answer the two key questions of "Who is this?" and "What was this soul's fate?"  Reading pages in a journal can clue us in to past events or a character's actions.  Observing items can help us trace their path in dead memories and see how they went from point A to point B.  The catch of this is that you can only interact with these items in the present and not in the memories.
This is important because we can space out the deaths if needed.  In ROD's ten chapters, the last seven very likely took place in the span of hours which is incredible to think about.  In the sequel, we can space events further from each other and allow us some breathing room, maybe have a story that takes place over a few days.
So now we need a story.  A story that involves a lot of deaths.
Keeping some consistency with "ROD," let's place our new story in the early 1800's.  It doesn't have to be exactly 1807 but as long as we hit the ball park range we should be good.  Two ideas come to my head that would create very interesting stories for our "ROD" sequel: a Ghost Train and a Ghost Town.
(love this song, this would be great to have as a theme)
Let's start with the Ghost Train idea.  The story synopsis would be that a train has just arrived at its station but everyone on board is found dead or missing and you're tasked to find out what happened to it.  As you can see, it's very similar to the Obra Dinn structure so we can find some similarities there.  First, train cars will open up to you as you further your investigation just as the Obra Dinn opens up its lower levels.  I imagine that the caboose might be an important part for the investigation given its cargo-holding function.
Next, we can get a wide collection of individuals, mainly passengers, who are trying to get to a certain destination.  And what's handy is we can have a passenger list with their names, if they bought a first class ticket or not, if they booked a round trip, and etc.  The passengers can be diverse and come from different countries, states, occupations, social standing, and etc.  This can also be the maiden voyage for this train and to celebrate the occasion everyone on board, both passengers and employees, took a (unlabeled) group photograph.
Admittedly, animal death would be minor in this game but I can see a few ways we can still use it.  An (unfortunate) death of a pet would be one but we can also have a bison death which could've stopped the train halfway through it journey and unknowingly pick up some hitchhikers.  These hitchhikers may bring with them a curse or amulet or whatever that starts the fantastical shenanigans.  Beside the hitchhiker, you can also have bandits who may attack the train.  Once you find evidence of the bandit attack, you suddenly gain access to wanted posters of them!  You can then pin the bandit faces to their posters which would be cool.
There would be a good potential for fun reading material such as journals, newspaper articles, and other lettering.  You can have a doctor's notes about an onboard patient, a lawyer's case files, or even as something as simple as a person's recipe which contains an allergenic ingredient that kills a passenger!  I like the idea of the conductor taking careful notes about the train where a small, seemingly innocuous detail unravels the whole case.  A lot of fun can be done here.
As for the fantastical element?  I can imagine a few creatures like gargoyle-like bats, a plague of insects, a terrifying spirit, or hell, even dinosaurs intercepting the ride.  What I like in "ROD" was Lucas Pope's addition of the spider crab soldiers which is so excellent.  Taking an unused animal and giving it horror-filled qualities would be great such as a mutated pronghorn, giant cicadas, or quill-shooting demon-porcupines.  The problem is you can't have a large beast, like "ROD"'s the Kraken, because that may topple the train altogether.  Although you never know, perhaps a beast did stop the train and the passengers have to clear or fix the railroad so they can survive another attack; that would be suspenseful!
My favorite idea though is the Ghost Town which would definitely expand the setting's scope but will see a huge rise in complexity and game development.  This would definitely be the bigger budget, more manpower, game but would create some interesting ideas.  Now, we don't have to get too carried away but I feel maybe 80 people or so would be reasonable enough to have for our village size.  After all, in "ROD," a real crew for a ship of that size would be much bigger (the original crew was 51 plus the 9 passengers) but we maintained our suspension of disbelief easily.  Also, more people does not mean it would be better.  It would make the game too frustrating and hard to keep track of.  So I think 80 people would be fine.  You can even divide the village up into smaller groups like a scene with just the miners or just the farmers to help with the logic process.
Our Ghost Town would take place in the Appalachian Mountains near a mine.  The story is as follows: after a terrible blizzard cutoff all communications with the mountain village of Hellbender, the town was found completely deserted and what few people remain were dead.  Something happened to the villagers.  You are hired by the state government to investigate the town and find out what happened.
You are given the Memento Mortem (of course) along with the town's census list which documents their addresses, their family names, and their occupations.  You also find within the town hall a painting/photograph of the town's village celebrating its official opening.  Armed with these few crucial pieces of evidence, you begin your investigation.
Compared to our Ghost Train story and the original "ROD," Hellbender can give us a lot of fantastic potential for some great game play moments.  First, we can find lettering scattered throughout the village, with many of the same things found on Ghost Train found here like the journals, letters, and etc.  But we can get some other good stuff as well.  A foreman's official documentation on mining activities, a constable's notes on recent arrests, or a store clerk's inventory on their goods.  A doctor's notes would be especially great given how he would regularly visit most if not everyone in town and have keen knowledge on the town's overall health and well being.
Obviously, Hellbender's setting is going to be its best selling point.  The memories in the weird "deadception" pocket dimension of the Memento Mortem will open houses and stores up which may otherwise be inaccessible.  You may even reach the mine to see what exactly happened inside of it.  I also imagine the local graveyard would be a fantastic source for memories since the bodies are just sitting there waiting to be buried.  So the game will have a nice steady progression as more and more of the town opens up to you.
The deaths will be awesome; so many great ways to die!  Besides freezing to death, which will probably happen in the last chapter when the blizzard kills off the last few remaining survivors, we can get other interesting fates as well.  First, although the town is isolated, that doesn't mean its impassable; unlike the train or ship, it would be easier for people to leave, and try their luck in the wilderness.  How many of these deserters will survive or not is up to the story…
But we can get a huge variety of deaths, too many to list here but include the usual gunshot, explosion (there's a mine after all…), and the standard disease.  I imagine whatever curse fell upon this town (along with spicy human greed) will give us some great variety like strangulation, stabbing, and bludgeoning.
The creatures and animals though are the real selling point.  Wolves and other feral animals may harass the town but we can get some good, crazy-ass monsters here.  Giant crocodile-like salamanders can prowl the river and man-size naked mole rats can be freed in the mine and wreck havoc!  I also like the idea of seeing bigfoot just randomly showing up and ripping a guy in half (which would be morbidly hilarious).
Obviously, a horror-themed Mothman should be our antagonist (?) that catalyzes the series of misfortunes that fall upon the town.  Imagine this for our first memory.  You find a body at the bottom of a cliff next to the remains of a bridge.  This is the only bridge that connects Hellbender to the rest of the world and its collapse causes the town's isolation.  In the memory, you see the individual as he makes ground contact but in the background you see the Mothman…eyes glowing brightly.  In fact, his eyes glow just like the shells do in "ROD," in the memory world where everything seems still, the Mothman's eyes are ablaze.   And in the rest of the memories, you can find his eyes in the distance, still watching as the town falls prey to whatever supernatural fate fell upon them…
Obviously, these thoughts and ideas are just a fan day dreaming but I nonetheless hope to play another game like "Return of the Obra Dinn."  What about you?  Would you like to see a sequel?  If so, where do you think the sequel should take place?  Love to hear your thoughts on this excellent, mystery game.