As of Generation VIII, the Ice Type is the rarest Pokemon type and, as you can imagine, is very difficult to pull off a Monotype Run.  The type generally appears late in the games, they are exposed to numerous weaknesses, and are so uncommon that it's unlikely you can form a full team of six unique Ice Pokemon, especially in the earlier games.  Nevertheless, there are a select few games in the Pokemon series that give you amazing opportunities for an Ice Type Team.  In fact, Ice Pokemon have probably the richest potential, out of any Pokemon type, to utilize their abilities and work together as a team.  Let's take a look!
Rules
Only Pokémon of a certain type may be caught and trained.
You must catch the first Pokémon available of that type if your starter does not match that type (you'll then have to discard that starter).
You may train a Pokémon that evolves to said type as long as you do it ASAP.
No trading allowed.
Mega Pokémon count as long as you Mega Evolve them as soon as they appear on the battlefield.
Only Pokémon caught before Elite Four are counted.
The Best Games
Pokemon Sword and Shield (SWSH) are undoubtedly the best games in the entire series for an Ice Type Run thanks to the Wild Area!  As soon as you enter the Wild Area you can catch a plethora of Ice Pokemon like Snover, Snorunt, Swinub, Vanillite, Delibird, and Shellder.  Boom!  Very quickly you have a team of six unique Ice Pokemon (seven counting Snorunt's split evolution) with your weaknesses covered!  AND…Snover and Vanillite's evolution have the ability Snow Warning so you can have a constant stream of Hail shivering your opponents as you destroy them with Blizzard and gain the advantage with Hail-related abilities like Ice Body and Snow Cloak.  There's other Pokemon to catch as well like the Fossil Pokemon and Rotom so you can continue to switch out your Pokemon and add others in their place.  So go out there and obliterate Hop's hopes and dreams like a flower in liquid nitrogen!
There are a few other games in the Pokemon series that are pretty good but nowhere near as stellar as SWSH.  USUM give you Crabrawler relatively early and shortly afterwards Shellder, Smoochum, and Delibird.  Unfortunately, a lot of your Ice-team members will show up near the end of the game so you will be playing with a less-than-stellar team for much of the run.  If you still have your Pokewalker then HeartGold and SoulSilver are surprisingly decent games for an Ice Run!  You can catch a Shellder and a Smoochum in the Pokewalker which means you have two very nice Pokemon on your team by the first gym (which is Flying)!  Add a Lapras later on followed by a Swinub and this team is looking pretty great!  If you can stomach it you can even train a Delibird!
Worst Games
I'd pretty much avoid the other games in the series unless you're desperate.  Ruby, Sapphire, and Emerald, and Diamond and Pearl are absolute trash as these Pokemon are caught after the sixth gym AND you can only catch TWO DIFFERENT FAMILIES IN EACH GAME!!  RSE has Glalie and Walrein while Diamond and Pearl has Abomasnow and Weavile.  Just don't even bother with it.
You probably thought about Pokemon XY but I would caution against it as although the games neutralizes Ice's weaknesses, your team will initially be incredibly small since your first Pokemon, Eevee, is after the first gym followed much later with Amaura and much later again with Shellder and Lapras.  I don't personally think it's worth it.
Ice Teams in Pokemon Games
Pokemon RBY and FRLG
Ideal Team: Lapras, Articuno, Dewgong, Jynx (all versions except Yellow), Cloyster (all versions except LeafGreen)
First Pokémon: Shellder via the Super Rod (from Route 12 from a fisherman), attainable after you complete Lavender Tower and move the Snorlax.  Shellder can be fished in various areas of Kanto.  In LeafGreen, use the Super Rod to fish a Poliwhirl (found in various areas) and trade it to an NPC in Cerulean City for his Jynx.
Covers weaknesses? No, Rock is not neutralized.
Pokemon GSC and HGSS
Ideal Team: Piloswine/Mamoswine, Lapras, Dewgong, Cloyster, Jynx, Delibird (S, C, SS)
First Pokémon: Lapras in Union Cave after the fourth gym or Smoochum (Dim Cave at 5000+ steps) and Shelldar (Blue Lake at 500+ steps) via Pokewalker
Covers Weaknesses? Surprisingly yes
Pokemon RSE and ORAS
Ideal Team: Walrein, Glalie, Glaceon (ORAS), Beartic (ORAS), Dewgong (ORAS), Delibird (ORAS)
First Pokémon: Snorunt via Shoal Cave, before 7th gym
Covers Weaknesses? No, Rock is not neutralized and Ruby, Sapphire, and Emerald are additionally weak to Fighting.
Pokemon DPP
Ideal Team: Abomasnow, Weavile, Glaceon (Platinum), Mamoswine (Platinum), Froslass (Platinum), Glalie (Platinum)
First Pokémon: Snover/Sneasel in Diamond and Pearl on Route 216 after the sixth gym or Eevee in Hearthome City in Platinum just before the third gym.
Covers Weaknesses? No, all versions weak to Fire and Steel. Diamond/Pearl additionally weak to Rock and Fighting
Pokemon BW and B2W2
BW Ideal Team: Vanilluxe, Beartic, Cryogonal
First Pokémon: Vanillite, via Cold Storage, shortly before the fifth gym
Cover weaknesses?  No, Fire, Fighting, Steel, and Rock are not neutralized.
B2W2 Ideal Team: Beartic, Walrein, Lapras, Mamoswine, Weavile, Delibird
Optional: Vanilluxe, Dewgong, Glaceon
First Pokémon: Eevee via Castelia Park before the third gym
Cover weaknesses? Yes
Pokemon XY
Ideal Team: Aurorus, Frost Rotom, Cloyster (Y)/Lapras, Mamoswine, Jynx, Abomasnow
Optional: Glaceon, Beartic, Avalugg, Weavile, Vanilluxe, Delibird, Cryogonal
First Pokémon:  Eevee via Trade in Camphrier Town after the first gym.
Weaknesses Covered? Yes
Pokemon SM and USUM
SM Ideal Team: Froslass, Vanilluxe, Sandslash(Moon)/Ninetales (Sun), Mamoswine (scan), Cloyster/Lapras/Walrein(scan), Crabominable
Optional: Delibird, Glaceon, Weavile
First Pokémon: Crabrawler via Route 2, just before the first trial
Cover weaknesses? Surprisingly yes regardless of version differences.
USUM Ideal Team: Jynx, Vanilluxe, Sandslash(UM)/Ninetales (US), Mamoswine (scan), Cloyster/Lapras/Walrein(scan), Crabominable
Optional: Delibird, Glaceon, Dewgong, Aurorus (UM), Weavile, Froslass
First Pokémon: Crabrawler via Route 2, just before the first trial
Cover weaknesses? Surprisingly yes regardless of version differences.
Pokemon SWSH
Ideal Team: Abomasnow, Froslass, Mamoswine, Cloyster, Mr. Rime, Frost Rotom
Optional: Glalie, Delibird, Glaceon, Vanilluxe, Beartic, Weavile, Frosmoth, Avalugg, Lapras, Darmanitan (Sword), Eiscue (Shield), Arctovish, Arctozolt
First Pokémon:  You are guaranteed to find an Ice type Pokemon if it's Snowing in the Wild Area.  Find an area that's snowing and start searching!  The Pokemon you can find include Snover, Snorunt, Swinub, Vanillite, Delibird, and Shellder (fishing) via Wild Area.  Look for Sneasel in Den 35 at West Lake Axewell for Max Raid battles. This can all be done before the first gym.
Weaknesses Covered?  Yes, and it's taken care of well before the first gym!
MVP (Most Valuable Pokemon)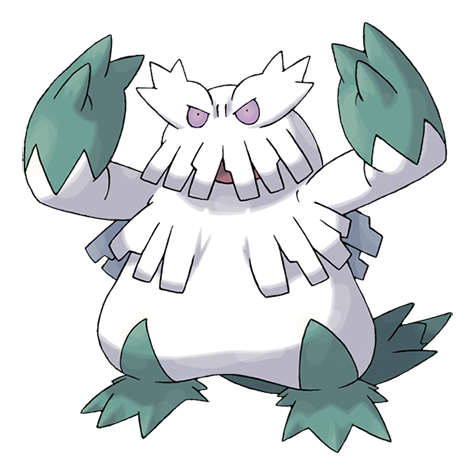 Snow Warning Users
Unfortunately, the Ice Type is probably the worst Pokemon type due to its plague of weaknesses and lack of resistances so your team will need all the help it can get. That's where Abomasnow, and later Vanilluxe starting Generation VII, comes in!  Their ability, Snow Warning, whips up a hailstorm that can immensely improve your winning chances.  Hailstorm whittles away your opponents' health, makes Blizzard 100% accurate, and triggers a whole host of Ice Pokemon abilities (more on that in a moment).  Couldn't you use just the move Hail and be done with it?  Yes, but you'd lose a valuable turn which can expose you to weaknesses.  Hailstorm is definitely a long-term strategy and you need all the short cuts you can get.
However, Abomasnow and Vanilluxe aren't that good even compared to other Ice Pokemon.  Abomasnow has a whole list of weaknesses (and that 4x weakness to Fire is rough) and Vanilluxe suffers from a really limited movepool.  Snow Warning was also nerfed in Generation VI and is now active for five turns unless you're holding an Icy Rock.  Still, a guaranteed 100% accurate Blizzard move is pretty sweet!
Available in: DPP (Abomasnow) XY (Abomasnow), SM and USUM (Vanilluxe), SWSH (Abomasnow and Vanilluxe)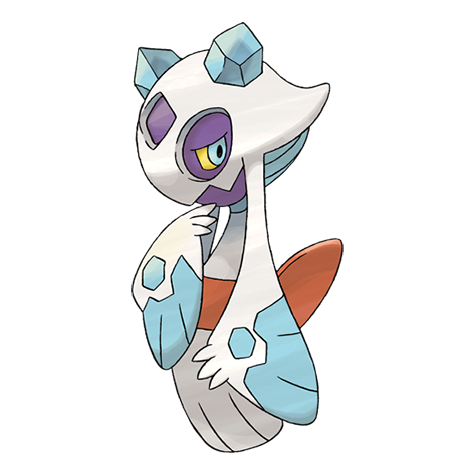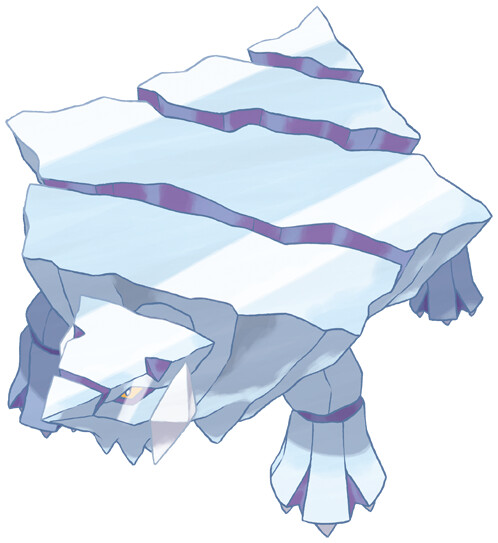 Hail Users
As of Generation 8, out of the 49 Ice Pokemon, 27 have an ability that is affected by Hail (this includes hidden ability users).  This is incredibly high for a type and is the number one reason why you should have a Pokemon with Snow Warning.  There are three Hail-related abilities; Slush Rush (which increases the user's speed), Hail Body (which steadily regenerates HP), and Snow Cloak (which increases evasion).  Of the three, Slush Rush will be the rarest as most Pokemon who can learn it have it as a hidden ability.  Beartic can learn it naturally though so you can have a fast attacker on your hand.
The other two will be more profitable for your crew.  I love Snow Cloak as its a soft counter to the tons of weaknesses Ice Pokemon have, I think Froslass, Alolan Ninetales, Piloswine, Glaceon use this the best.  Hail Body is also a nice defensive ability and a great way to "weather" battles.  The tanky Avalugg and Walrein use Hail Body very well.
Of course, your biggest flaw is that Hail factor, once it's gone the abilities go with it.  So it might be helpful to have an extra Pokemon know the move Hailstorm in case you want to reactivate it and/or your Snow Warning user has fainted.
Available in: Generation 4 and onwards.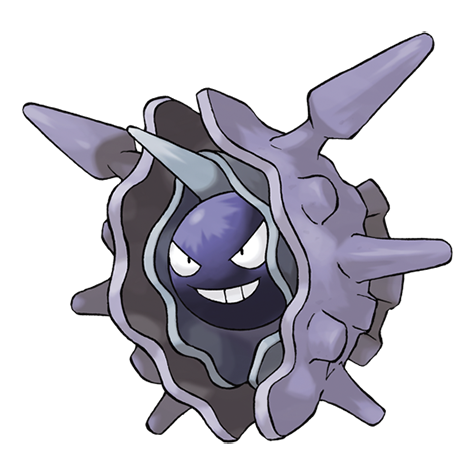 Water/Ice Pokemon
Water/Ice Pokemon are incredibly important for your team and they are absent in only a few games (Lapras is the most common Ice type as of Gen VIII in 20 games!).  First, that Water pairing neutralizes your Fire and Steel weakness and gives you a nice counter against Rock and Fire types via Surf or Waterfall.  Lapras can learn Psychic and Thunderbolt which is super cool, Walrein is a beast of a tank in Hail, and Cloyster has that sweet Skill Link Ability making it a prime candidate for Rock Blast or Icicle Spear.
Really you'll just have to watch for that Electric weakness which can be tricky.  Mamoswine can back you up if you run into that problem but beyond that quite a few Ice Pokemon can learn Earthquake or other Ground moves so just keep that in your back pocket for emergencies.
Available in: RBY, FRLG, GSC, and HGSS (Lapras, Cloyster (except LG), and Dewgong), RSE (Walrein), B2W2 (Lapras, Walrein and Dewgong), ORAS (Walrein and Dewgong), XY (Cloyster in Y and Lapras in both), SM (Cloyster, Lapras, and Walrein), USUM (Cloyster, Lapras, Walrein, and Dewgong), SWSH (Cloyster, Lapras, and Arctovish)
Piloswine/Mamoswine
These last two Pokemon are here for their commonality and late-blooming strength.  First, Mamoswine's Ground type offers viable protections for your team especially for your Water Pokemon.  Additionally, it offers a crucial resistance to Rock moves and can deliver a STAB Earthquake right back at them!  A STAB Ice Shard is also always appreciated and with Mamoswine's stellar Attack stat, you don't need speed to finish your opponent off.  I always get a lot of joy finding a Swinub in the games because I know I can have a wonderful time with the hairy furball!
Biggest disadvantage?  Not a lot of move variability, it's basically going to be Ice, Rock, or Ground moves for you and that's about it.   Even then, Mamoswine can learn a lot of Special Attack moves and that's frustrating.  Later generations definitely boost Mamoswine up a bit but he's a little rough around the edges early on.  The Ground weaknesses are also problematic but as long as you have Snow Cloak then you have a chance to avoid your opponent's awful moves.
Available in: GSC (just Piloswine), Platinum, HGSS, B2W2, XY, SM, USUM, and SWSH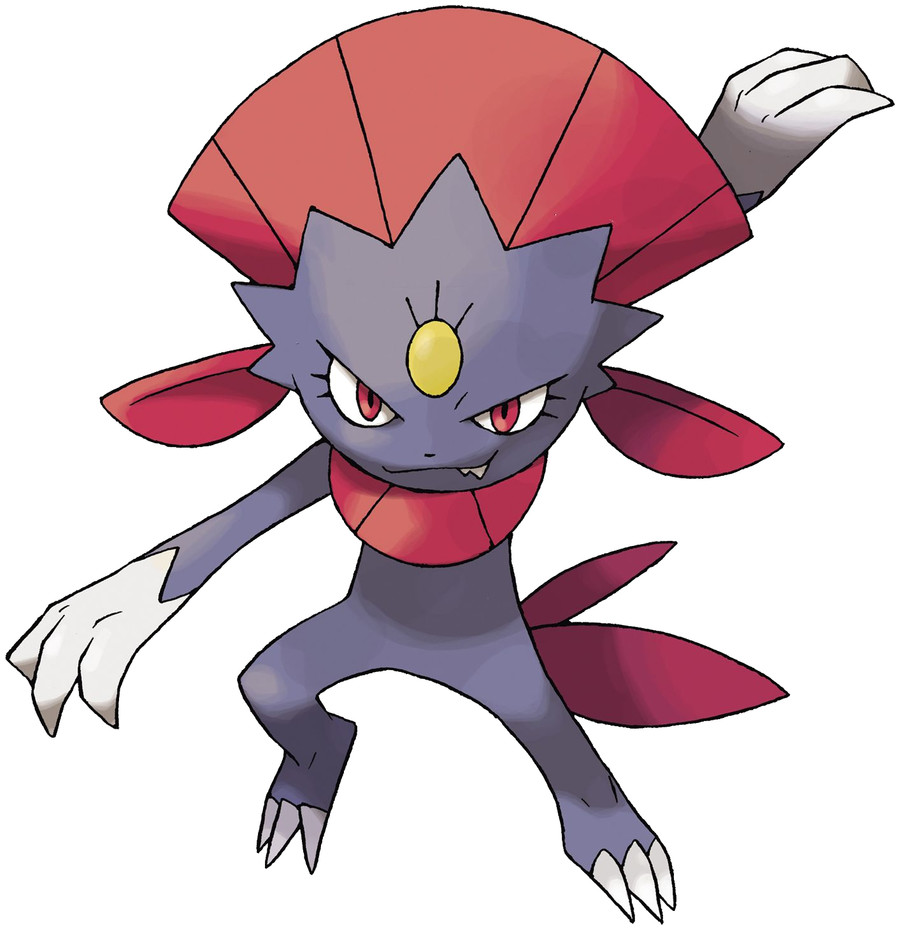 Weavile
Despite its Generation 2 popularity, Sneasel unfortunately doesn't appear in GSC and HGSS until the very end of the game!  Gah!  It's so frustrating!  I want to train one and I couldn't!  But!  Other games have thankfully remedied this problem so now we can finally train a Sneasel and evolve it to a Weavile before fighting the Champion.
Weavile is an Ice Cannon through and through.  Super fast, super physically strong but middling defenses.  Ice Shard on this guy is fun but you're so fast I'd say go for Ice Punch!  You also have all those nice Dark STAB moves which is good and you can teach it Brick Break and Low Sweep which is crucial against your tricky Rock and Steel foes.  Like Mamoswine, Weavile suffers from learning Special Attack moves that it can't quite pull off.  But the moves it can learn is great AND in Generation VIII it can learn Psycho Cut via TM which is soooooooo gooooooooood.  That in itself makes it top tier.
Available in: DPP, B2W2, XY, SM, USUM, and SWSH