Update 12/30/2019: The article is now updated to include Pokemon Sword and Shield
I know what you're thinking.
Yes, it CAN be done!  BUT!  If you want to do a Ghost Type Run you'll have to do a little research first before you dive in because a Ghost Type run can be really rough.  Ghost Pokemon have a habit of showing up around mid-game but the biggest problem by far is their limited diversity which can be very debilitating.  They are the second rarest type  ranking just above Ice Type.  Because of which, trying to find a full team AND neutralize all your weaknesses can be a big challenge.  Fortunately, there are a few great Pokemon games where you can have a fantastic Ghost team who'll curse your opponents and haunt your way to victory!  Let's take a look which Pokemon games will be great for a Monotype Run (or Single Type Run) for you and your Ghost Pokemon.  But first…
Rules
Only Pokémon of a certain type may be caught and trained.
You must catch the first Pokémon available of that type if your starter does not match that type (you'll then have to discard that starter).
You may train a Pokémon that evolves to said type as long as you do it ASAP.
No trading allowed.
Mega Pokémon count as long as you Mega Evolve them as soon as they appear on the battlefield.
Only Pokémon caught before Elite Four are counted.
Best Games
The best games, by far, for a Ghost Type Run have to be Pokemon Sun, Moon, Ultra Sun, and Ultra Moon.  These games just nail it on every front.  First, they have the highest amount of Ghost Pokemon as of Generation VII.  There are 13 unique Ghost families in Sun and Moon and 16 in USUM.  And they are really good Ghosts like Golurk, Gengar, Alolan Marowak, Palossand, Aegislash, and Decidueye.  You also have a nice abundance of Ghost Pokemon on the first island thanks to Hau'oli Cemetery and later Sableye on Ten Carat Hill.  You also have Rowlett as your starter which evolves into a Ghost type which is FREAKING AWESOME.  So far, it's the only starter that can evolve into a Ghost which makes these games a lot less frustrating for a Ghost run.  Finally, as of Generation VII, these are the only games in the series where you can catch a Gengar.  That's right!  No need to trade!  Go to the Thrifty Megamart, find a Haunter, use an adrenaline orb on it, chip its health down, and just sit and wait for it to call a Gengar.  It will take awhile (as seen in this handy video) but you will eventually catch one.  It's because of these reasons that the Sun and Moon games are the best, by far, Ghost run games.
However, it will be tricky, especially at the beginning because Bite and Pursuit is very common for low level Pokemon so they can easily destroy the fragile Ghosts.  Also, the first Totem Pokemon can be an Alolan Raticate so that's rough.  Thankfully, Rowlett would not evolve into Decidueye by then so you'll be on equal footing by the time you face off against them.  There's also a huge abundance of Dark Pokemon on your first island so you'll need to tread carefully as you gather your team.
There are a few other games you can consider but they rank in "B" territory for me.  Pokemon XY can cover your weaknesses and give you variety but your first Pokemon, Nincada and Honedge, won't come until after the first gym so you'll need to be patient.  On the flip side, you can catch a Nincada in ORAS before the first gym but you'll be starved of Ghost Pokemon until the end of the game (made even worse if you're playing OmegaRuby as Sableye is exclusive to AlphaSapphire).  Pokemon Sword and Shield are really fantastic and you catch Dragapult who's the strongest non-Legendary Ghost Pokemon but both are exposed to Ghost weaknesses (Sableye is catchable after the Championship in Shield).  Still though, you can train a Golett very early and really, who wouldn't?
Worst Games
Yeah…just avoid Red, Blue, Yellow, FireRed, LeafGreen.  You only got the Gengar line which is available long after the third gym and you can't get a Gengar unless you trade.  This is a very terrible run for Ghosts.  Please avoid for your own sake.
I'd also avoid the Johto games as well.  Gold, Silver, and Crystal gives you a Gastly via Sprout Tower before the first gym but you're still gonna just have that Haunter (HGSS gives you a Misdreavus at least in the Safari Zone).  Black, White, and B2W2, give you a decent selection of Ghosts but you'll have to wait until after the third gym to catch one.  Finally, Ruby and Pearl are inferior games to their already flawed counterparts due to version-exclusive Ghosts.
Ghost Teams in Pokemon Games
Pokemon RBY and FRLG
Ideal Team: Haunter
First available Pokémon: Gastly at Lavender Tower, after the third gym
Covers weaknesses? No, Ghost and Dark moves are not covered
Pokemon GSC and HGSS
Ideal Team: Haunter, Misdreavus (HGSS via Safari Zone)
First Pokémon: Gastly via Sprout Tower (or at night at Route 30 in Pokémon Crystal) before the first gym; Gastly can also be caught on the Pokewalker.
Covers Weaknesses? No, Ghost and Dark not neutralized
Pokemon RSE and ORAS
Ideal Team: Shedinja, Sableye (S, E, AS)/Spiritomb (ORAS), Drifblim (ORAS), Trevanant (ORAS), Froslass (ORAS), Jellicent (ORAS)
Optional Pokémon: Banette, Dusclops, Cofagrigus (ORAS), Mismagius (ORAS)
First Pokémon: Nincada in Route 116 before the first gym
Covers Weaknesses? Yes for Sapphire, Emerald, and ORAS.  However, in Ruby, Ghost and Dark are not neutralized.
Pokemon DPP
Ideal Team: Haunter, Drifblim, Dusclops (Platinum)/Mismagius (Diamond), Rotom (Platinum), Froslass (Platinum)
Optional Pokémon: Giratina (Platinum)
First Pokémon: Drifloon on Fridays at the Valley Windworks before the second gym
Covers Weaknesses? No, Ghost and Dark moves are not neutralized
Pokemon BW and B2W2
BW Ideal Team: Cofagrigus, Chandelure, Jellicent, Golurk
First Pokémon: Yamask via Relic Castle after the third gym
Cover weaknesses? No, Dark and Ghost moves not neutralized
B2W2 Ideal Team: Cofagrigus, Chandelure, Banette, Drifblim, Jellicent, Golurk
First Pokémon: Yamask via Relic Castle after the third gym
Cover weaknesses? No, Dark and Ghost moves not neutralized
Pokemon XY
Ideal Team: Shedinja, Aegislash, Rotom, Golurk, Sableye, Chandelure
Optional Pokémon: Haunter, Phantump/Pumpkaboo, Drifblim, Banette
First Pokémon: Nincada and Honedge via Route 6 after the first gym.
Weaknesses Covered? Yes
Pokemon SM and USUM
SM Ideal Team: Decidueye, Sableye, Palossand, Aegislash(scan), Gengar (S.O.S. by Haunter in Thrifty Megamark after the Ula'ula Trials), Mimikyu
Optional: Trevanant, Dhelmise, Froslass, Drifblim, Chandelure (scan), Mismagius, Alolan Marowak
First Pokémon: Rowlett via Starter
Cover weaknesses? Yes
USUM Ideal Team: Decidueye, Sableye, Palossand/Golurk (US), Aegislash(scan), Gengar (S.O.S. by Haunter in Thrifty Megamark after the Ula'ula Trials), Mimikyu
Optional: Trevanant, Dhelmise, Froslass, Drifblim, Chandelure (scan), Mismagius, Banette, Jellicent, Alolan Marowak
First Pokémon: Rowlett via Starter
Cover weaknesses? Yes
Pokemon Sword and Shield
Ideal Team: Golurk, Dragapult, Dusknoir, Mimikyu, Gengar, Aegislash
Optional Pokémon: Runerigus, Cofagrigus, Shedinja, Gourgeist, Froslass, Polteageist, Rotom, Cursola (Shield), Chandelure, Jellicent, Trevanant (Raid), Dhelmise, Drifblim, Eternatus
First Pokémon: Watchtower Ruins is your best bet.  Regardless of weather you will find a Duskull, Drifloon, Gastly, or Golett by random encounters.  You can also find a Nincada at West Lake Axewell by Sandstorm random encounter or South Lake Miloch by Sandstorm or Intense Sun random encounter.  Finally, you will always catch Ghosts in Den 6/47 at Watchtower Ruins for Max Raid battles.
Weaknesses Covered? Unfortunately no as they are exposed to Ghost weaknesses (Sableye is catchable after the Championship in Shield).
MVP (Most Valuable Pokemon)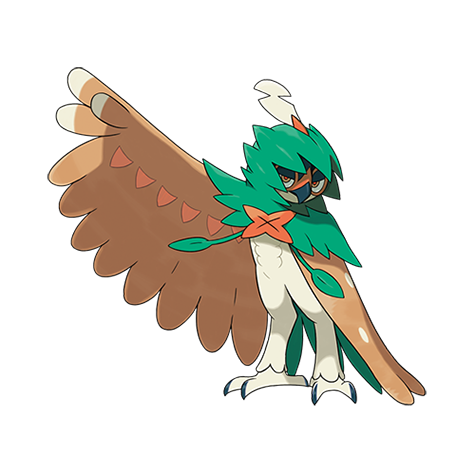 Decidueye
At the top of our list is Decidueye, with only four in-game appearances there is a lot going for him.  Mainly, Decidueye is one of the strongest non-Legendary, non-Mega Ghost Pokemon.  This combined with their status as a starter Pokemon means you have your strongest team member right from the get-go.
I think your biggest flaw with Decidueye is his rather low movepool diversity.  Don't get me wrong, the moves it can learn are strong and rather exclusive but…not very diverse type-wise and that's probably the Grass pairing weighing him down.   Also, there is the elephant in the room with Decidueye being a starter from a later generation so availability is very limited at this time.
As a side note, I feel sorry about Dhelmise which was also introduced in this generation and is also very strong.  Hopefully, you'll get a chance to shine later, anchor-buddy!
Available in: SM and USUM
Sableye (and to an extent Spiritomb)
At the time of this writing, there are unfortunately no Ghost/Normal Pokemon officially released.  Which is a shame as that pairing can give you a Pokemon that's totally immune to Ghost moves.  Thankfully, we have Sableye (and I guess Spiritomb) who can solve both your Ghost AND Dark problems!
Spiritomb's availability is very limited but Sableye is much more common which is why we're primarily focusing on Sableye.  It's stats are…okay…and honestly really lacking if I have to be honest.  But it's a trade off.  You get subpar stats for a much-needed defensive typing and a decent moveset.  Sabeleye can learn Dazzling Gleam which is ballin' so take that Dark types!  And those Dark and Ghost moves are really nice to stick it to Ghost enemies who may take you down with one hit.
Why not both?  If you want Spiritomb and Sableye you can pick up AlphaSapphire.  It's one of the few games where you can pick up Spiritomb and not go through all sorts of crazy, underground, shenanigans.  You can capture one before the Elite Four which is nice but…why not train a Mega Sableye instead???  Instantly Sableye's medicore stats are boosted and you get a great defensive Pokemon ready to shield your attacks.  Poor Spiritomb…at least you got OmegaRuby?
Available in: Ruby and Emerald (Sableye), XY (Sableye), OmegaRuby (Spiritomb), AlphaSapphire (Spiritomb and Sableye), SM and USUM (Sableye)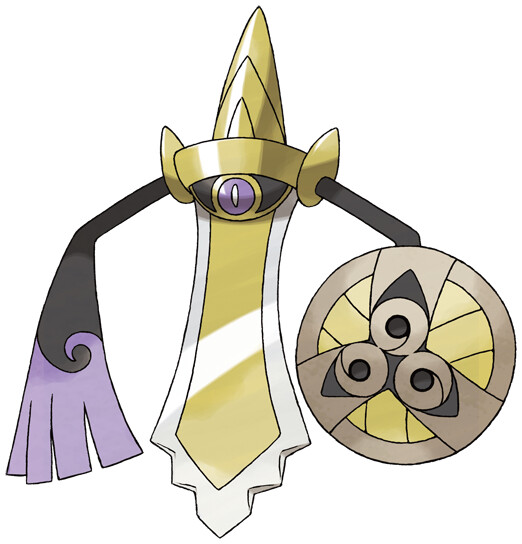 Aegislash
Aegislash's arrival came a hair too late as Steel lost its resistances to Dark and Ghost in Generation VI.  Very unfortunate but not the end of the world.  Aegislash has some of the best stats either offensive or defensive for any Ghost Pokemon.  Many competitive players use Aegislash's form change to strike hard and strong and play defensive and cool.  It's super versatile and damn is it a cool Pokemon.  Like Decidueye, its movepool is alright but who cares?? Those attack stats are out of this world (150)!  A STAB Iron Head or Shadow Ball (and to an extent the priority move Shadow Sneak) can just obliterate opponents, throw in Sacred Sword and your golden.
Main issues here are its HP and Speed which are lackluster.  So if you're in Blade Forme and get hit by something you're probably out of here.  Bye bye.  Still, the move King's Shield can lower an opponents Attack stat so you can have them suffer.  Open yourself back up and swish, slash!
Available in: XY, SM and USUM (Island Scan), SWSH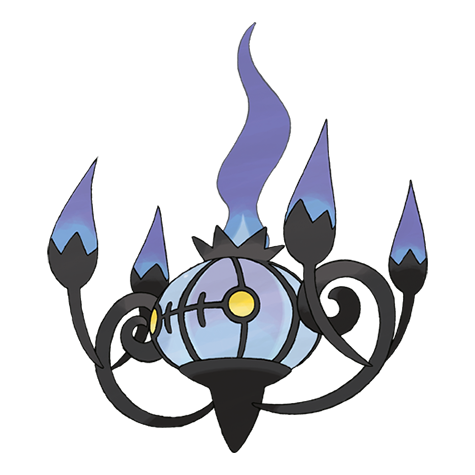 Chandelure
Chandelure is a fantastic, and surprisingly common, Pokemon in its own right and should always be considered when doing a Ghost run.  It has a whopping 145 Special Attack stat which is just incredible.  A STAB Shadow Ball and Flamethrower is enough to carry Chandulure around.  If you want, you can burn your opponents with Will-o-wisp and use Hex which doubles its power to 130 (by comparison, Shadow Ball's power is 80).
Hex can also be used with one of Chandelure's abilities, Flame Body which has a 30% of burning an opponent if it physically attacks you.  On the flip side, the Flash Fire ability makes you immune to Fire attacks and charges up your Fire moves instead.  This can work very well if you have Shedinja, Decidueye, Trevanant, Dhelmise, Gourgeist, Froslass, or Aegislash on your team as you can bait an enemy Fire Pokemon, switch to Chandelure, take the hit and use Shadow Ball on them.
Only faults?  This is minor but Chandelure's Speed and bulk are okay.  Not bad, not good, just average.  You also won't get an incredible move diversity out of Chandelure besides the usual Ghost, Dark, and Psychic moves that practically all Ghost Pokemon have.  The Grass-move Energy Ball is nice though as well as its plethora of Fire moves.  And who needs diversity when you have Calm Mind?  Use that once or twice and just go to town!
Available in: BW, B2W2, XY, SM and USUM (Island Scan), SWSH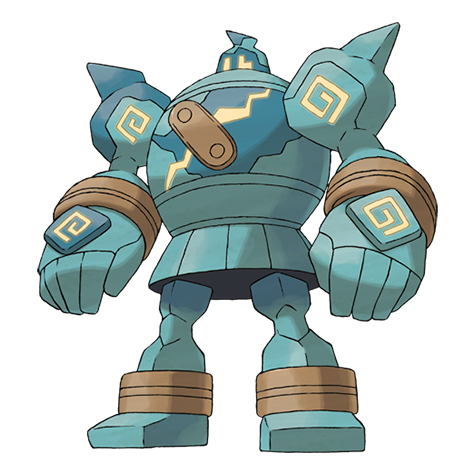 Golurk
When you're doing a Monotype Run, you want to find the oddballs.  The Pokemon who get off the bandwagon and do their own thing.  These Pokemon, like Golurk, can round out your team and give you diversity that's not just about weakness-neutralization.  Golurk is, to put it simply, everything a Ghost Pokemon is not.  It's bulky, not particularly fast, has very low Special Attack, and it has high Physical Attack.  Like, really high.  124 to be exact.  Few other regular Ghost Pokemon, like my beloved Dhelmise, exceed that stat.
Here's the thing.  Golurk can actually use this stat to its full advantage!  Dhelmise and Aegislash, and a lot of other Ghosts for that matter, struggle to reach the movepool that Golurk has achieved.  This combined with Golurk's Iron Fist ability makes him a BEAST.  Hammer Arm, Shadow Punch, Dynamic Punch, and Focus Punch can be learned by leveling up while the elemental punches and Drain Punch can be taught by Move Tutor (best used in B2W2, US, or SWSH).  Golurk can also learn Earthquake, Rock Slide, and Heavy Slam; physical moves that other Ghosts don't even have a chance, a dream, to properly use or learn.
Available in: BW, B2W2, XY, US, SWSH
Gengar/Haunter
The Gengar line in Pokemon is such a twisted, crazy mess that I debated whether to include them or not.  The biggest thing, by far, that's holding them back is the required trading to evolve your Haunter which breaks the rules of the run.  If it wasn't for that they would be top of this list, no doubt.  But they're not and we have to sort through this to understand why Gastly, Haunter, and Gengar can still be very important to you and your team.
Of course, they are the first Ghosts that were introduced in Pokemon.  And this early introduction combined with Ghosts' scarcity, makes them the most common Ghost line in all the Pokemon games by far.  They are catchable before the Elite Four in 21 games as of Sword and Shield (the next most common line, Chandelure, in catchable in 12 games).  A few of these games are pretty early too!  In the Johto and Galar games you can catch a Gastly before the first gym, in Sinnoh it's shortly after the first gym, and Alola you can get them in the cemetery shortly before the first trial.
Haunter and Gengar can also learn some nice moves like Thunderbolt and Dazzling Gleam.  If you're training one before Generation IV you can teach them Ice, Thunder, and Fire Punch which they will use very well thanks to their high Special Attack.  Gengar can also learn Focus Blast too.  Sludge Bomb is also great for potential poison damage.
Despite being a second stage, Haunter is quite fast and has a really nice Special Attack stat (115).  However, it's incredibly fragile and a decent physical attack move can shut it down.  But still, Haunter is really cool!  I've trained Haunter several times when I was much younger on Pokemon Blue and it was great!
There's also some good news for you Gengar purists.  If you want a Gengar you can catch one in SM, USUM, and SWSH!  In the Sun and Moon games if you go to the Thrifty Megamart after its trial and force a Haunter to call for help, there's a chance it will call a Gengar.  However, this is a very tedious process so be prepared to hang tight and be patient.  This video demonstrates the procedure and how long it takes.  SWSH is a bit easier as you can find Gengars in the Wild Area.  All in all, once you catch your Gengar, you are ready to go to town on your opponents with a very powerful, and iconic, Ghost Pokemon!
Available in: RBY, GSC, FRLG, DPP, HGSS, XY, SM, USUM, SWSH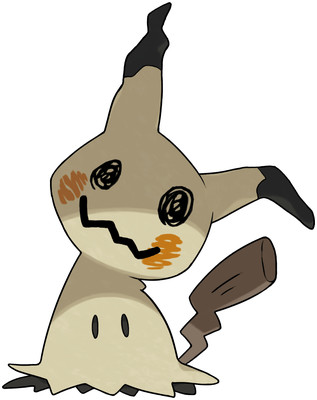 Mimikyu
Mimikyu has become one of the big stars of the Sun and Moon games.  Besides the starters, it seems like Mimikyu is the most frequent Gen VII Pokemon seen in toys, art, and promotional materials.  Thankfully, its inclusion in SWSH continues its popularity and makes it a worthy addition to your team.
Mimikyu's very fun and very unique Ghost/Fairy combo gives your team a much needed resistance to Dark which otherwise is quite hard to pull off.  It even beats Sableye as it has the power and moves to take out Dark Pokemon.  It's decent Physical Attack gives it access to moves that other Ghost Pokemon struggle to use like X-Scissor, Play Rough, Drain Punch, and Shadow Sneak (all of which can fight off your enemies).  It also has pretty good bulk which ties nicely to its signature ability, Disguise.  Biggest downside is that very low Special Attack but you got other Ghosts that can handle that easily so no need to worry.  Don't forget to pick up Mimikium Z in USUM!
Available in: SM, USUM, SWSH