I think out of all the Pokemon types out there the Steel type looks the most intriguing for a Monotype Run.  A Monotype Run is a run where you train only one Pokemon type throughout the game, similar to being a gym leader.  And with the main issue being that you have to watch out for your weaknesses…a Steel type run looks pretty stellar!  After all, there are a lot of Steel Pokemon with dual typings and quite a few of them neutralize their weaknesses!  Steel has also seen a boom in early availability which makes them prime and ready for a Monotype Run.  So let's take a look which Pokemon games you should play, and which you should avoid, and which Pokemon you should have on your team!
Rules
Only Pokémon of a certain type may be caught and trained.
You must catch the first Pokémon available of that type if your starter does not match that type (you'll then have to discard that starter).
You may train a Pokémon that evolves to said type as long as you do it ASAP.
No trading allowed.
Mega Pokémon count as long as you Mega Evolve them as soon as they appear on the battlefield.
Only Pokémon caught before Elite Four are counted.
Best Games
Fans of the DS, 3DS, and Switch can breathe a sigh of relief as you are more than likely to find a team that can fit you.  Platinum, Sun/Moon, and B2/W2 are great but XY, Ultra Sun/Ultra Moon and Sword/Shield are stellar.  What these latter games have in common is a high abundance of Steel Pokemon, early availability, and notable stars that will carry you to victory.
It's hard to pick which one of these is my favorite in all honesty.  Even Platinum and B2W2 I like a lot despite the less-than-common Steel Pokemon.  USUM has Empoleon and Metagross which are quite rare, SWSH gives you Rookidee from Route 1 which neutralizes two of your weaknesses (and of course the Wild Area), and XY gives you a Riolu before your first gym and then later a Lucarioite which is fantastic!  However, if you were to twist my arm, I would pick XY because of that sweet Riolu but you also get the likes of Honedge early on (nice), and later pick up Pokemon like Steelix, Aggron (X), Skarmory, Durant, Klefki, and Ferrothorn.  It's such a nice, diverse team and it's a shame that neither Bronzong or Metagross are in those games because it would be perfect.
I tell you, when those Sinnoh remakes do come out it's going to be great for you Steel fans.  So many great Steel Pokemon with Piplup as your starter, I think it's going to be a wonderful ride.  I haven't done a Steel run yet, but if I do it will probably be when the remakes come out.
Worst Games
Yeah…not a shocker that Kanto games just straight up suck.  Hope you enjoy that Magneton!  It's available halfway through the game!  Johto is also not the best as Scizor and Steelix is acquired by trading so you're limited to just three Pokemon and even then Skarmory is found in just Silver, Crystal, and SS.  Ruby, Sapphire, and Emerald are incrementally better as you can neutralize your weaknesses but it's not a whole team and your first Pokemon is after the first gym.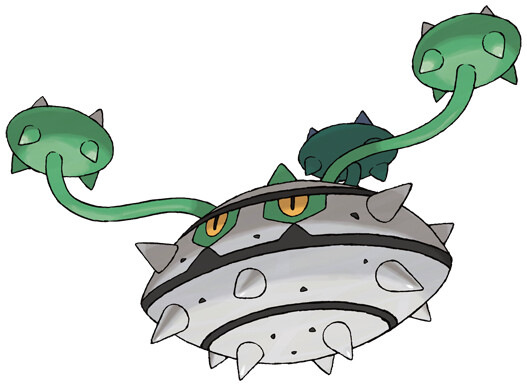 Pokemon Teams for Each Game
Red/Blue/Yellow and FireRed/LeafGreen
Ideal Team: Magneton
First available Pokémon: Magnemite via Power Plant through surfing (need the Soul Badge)
Covers weaknesses? No, Ground, Fighting, and Fire not neutralized.
Gold/Silver/Crystal and HeartGold/SoulSilver
Ideal Team: Magneton, Forretress, Skarmory (S, C, SS)
First Pokémon: Pineco via headbutting trees after the second gym or Magnemite in Suburban Area at 1000+ steps via Pokewalker.
Covers Weaknesses? No, Fire is not neutralized
Ruby/Sapphire/Emerald and OmegaRuby/AlphaSapphire
Ideal Team: Aggron, Skarmory, Magneton/Magnezone, Mawile (R, E, OR)/Klefki (ORAS), Bronzong (ORAS), Excadrill (ORAS)
Optional Pokémon: Forretress (ORAS), Klinklank (ORAS)
First Pokémon:  In RSE, Aron via Granite Cave shortly before the second gym.  However, in ORAS, the second floor basement is blocked off and you need a Mach Bike to access it.  As such Aron is acquired after the second gym (as well as Mawile in OR).  The earliest Steel Pokemon you can catch in ORAS is a Magnemite via Horde Encounter on Route 110, also after the second gym.
Covers Weaknesses? Yes
Diamond/Pearl/Platinum
Ideal Team: Empoleon, Bastiodon (Pearl and Platinum)/Probopass (Platinum [need an ID that ends with an even number]), Bronzong, Lucario, Steelix, Magnezone (Platinum)
Optional Pokémon: Dialga (Diamond), Wormadam
First Pokémon: Piplup via starter
Covers Weaknesses? Yes, provided you get a Bronzong that has the Levitate Ability.
Black/White and Black2/White2
BW
Ideal Team: Excadrill, Klinklang, Ferrothron, Cobalion, Bisharp, Durant
First Pokémon: Drilbur via Wellspring Cave after first gym
Cover weaknesses? No, Fire is not neutralized.
B2W2
Ideal Team: Lucario/Cobalion, Metagross, Excadrill, Aggron, Ferrothorn, Skarmory
Optional Pokémon: Klinklang, Probopass, Bisharp, Magnezone
First Pokémon: Riolu via Floccesy Ranch before first gym
Cover weaknesses? Yes
X/Y
Ideal Team: Lucario, Probopass/Aggron (X), Aegislash, Mawile, Ferrothorn, Durant
Optional Pokémon: Wormadam, Klefki, Bisharp, Magnezone, Skarmory, Steelix
First Pokémon: Burmy via Route 3, before the first gym.  Don't worry, you'll get a Riolu soon after via Route 22, also before the first gym.
Weaknesses Covered? Yes, and in more ways than one. Ground is covered by Ferrothorn, Durant, and Skarmory.  Fire by Probopass/Aggron. Fighting by Mawile, Durant, Wormadam, Aegislash, and Skarmory.
Sun/Moon and Ultra Sun/Ultra Moon
SM Ideal Team: Metagross, Skarmory, Dugtrio, Bastiodon (Moon)/Probopass, Aegislash (scan), Klefki
Optional Pokémon: Sandslash (Moon), Togedemaru, Magnezone
First Pokémon: Magnemite near the Trainer School, before the first trial
Cover weaknesses? Yes
USUM Ideal Team: Metagross, Skarmory, Empoleon (scan), Dugtrio, Bastiodon (UM)/Probopass, Aegislash (scan)
Optional Pokémon: Sandslash (UM), Togedemaru, Klefki/Mawile, Forretress, Bisharp, Magnezone
First Pokémon: Magnemite near the Trainer School, before the first trial
Cover weaknesses? Yes
Sword/Shield
Ideal Team: Corviknight, Lucario, Bronzong, Ferrothorn, Aegislash, Duraludon
Optional Pokémon: Perrserker, Steelix, Klinklang, Stunfisk, Bisharp, Mawile (Sword), Excadrill, Copperajah, Durant, Togedemaru, Escavalier (Sword Raid)
First Pokémon: Rookidee by overworld (30%) via Route 1
Weaknesses Covered? Yes
MVP (Most Valuable Pokemon)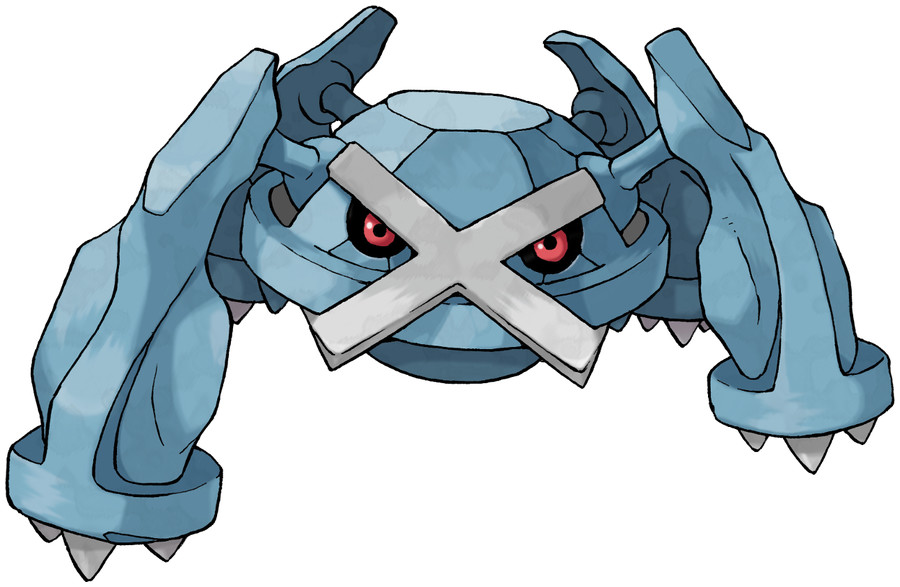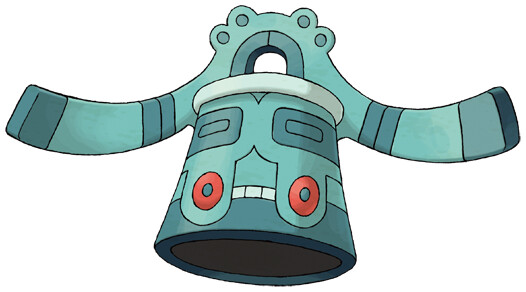 Metagross and Bronzong
Honestly, I was going back and forth among three different Pokemon who was the top MVP but I landed on our Psychic bois for these principal reasons; their commonality in late games, the handy resistance to Fighting moves and, in particular, Metagross' stellar stats and Bronzong's defense.  Starting with Metagross, this is the strongest non-Mega, non-Legendary Steel Pokemon and it has an amazing moveset.  The stellar Attack and the good Special Attack give Metagross the potential to dish out such attacks as Earthquake, Meteor Mash, Ice Punch, Thunder Punch, Shadow Ball, and Hammer Arm.  Pretty sweet.
Bronzong, meanwhile, really leans into its defensive Steel typing with impressive Defense and Special Defense stats but the real reason why you want this bell is its abilities.  Levitate is pretty incredible making it completely immune to Ground moves which is fantastic.  And Heatproof halves Fire damage making it a potential switcher when you're facing the likes of say a Magmar.  It doesn't have anything too stellar for attacking but Psychic, Rock Slide, and Grass Knot would be good against the Ground, Fire, and Fighting types.  And it can do a lot of status and defense buffs which is great.
Available in: DPP (Bronzong), B2W2 (Metagross), ORAS (Bronzong), SM and USUM (Metagross), SWSH (Bronzong)
Lucario
Lucario was recently voted as the second most popular Pokemon, behind my frog Greninja, in a 2020 Official Pokemon poll.  And I don't find this surprising!  Lucario is wonderful and is definitely the cool and stoic mascot of Generation 4.  In our case, Lucario is a fantastic addition for your team as it has so many great things going for it.  The biggest thing?  It's movepool.  Just scroll through its list of TMs, TRs, Move Tutors, and Level Ups, and its apparent Lucario can learn a lot.  Some simple highlights include Blaze Kick, Dragon Pulse, and Aura Sphere.  Fantastic.
Also, surprisingly, Lucario can be caught early in quite a few games, sometimes before the first gym like XY and B2/W2.  Lucario is the prime reason why these games are great in the first place.  You have on your team a versatile Pokemon with great stats.  Only flaw?  No crucial resistances.  You're exposed to all three weaknesses.  Whoops.  Welp, at least you can get a Mega Lucario before the Championship in XY.
Available in: DPP, B2W2, XY, SWSH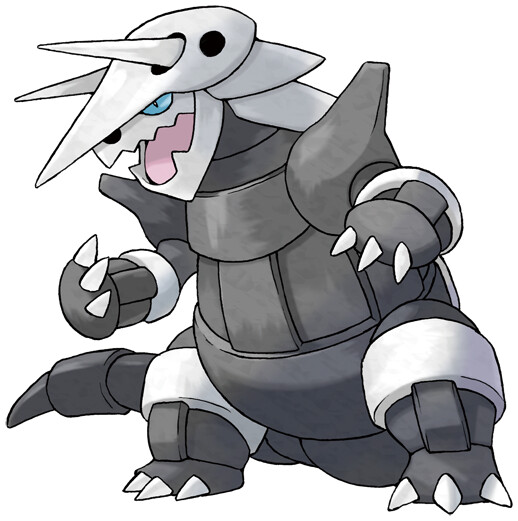 Aggron (along with Bastiodon and Probopass)
Finding a resistance and even immunities to Fighting and Ground moves are easy for your Steel team, for Fire moves…not so much.  Empoleon is a rare starter, Heatran is a legendary, and Duraludon was just introduced.  So that leaves our Rock team members.  Although they're 4x weak to Fighting AND Ground attacks, the resistance to Fire is so helpful especially since Fire Pokemon are weak to Rock attacks.  You need some sort of counter to them and these guys can do it.
All three of them really embody their Steel/Rock combo and have super high Defense stats.  Additionally, Bastiodon and Probopass have a really high Special Defense stat while Aggron's is pretty small.  So if you need a wall, it's these guys.  Unfortunately, Bastiodon and Probopass are really bad attackers so stick to their defense moves if you use them.  Of the three, Aggron, is the strongest and has a really good Attack stat so I suggest him.  Aggron can learn the elemental punches, Dragon Claw, and Aqua Tail so you have a nice variety of moves against your opponents.  Aggron has the ability Rock Head which is supeeeeeer niiiiiiiiice for Head Smash which you can easily get in ORAS.  Also…GET THAT MEGA AGGRON IN ORAS!  Super strong and its Filter Ability halves super effective attacks which is EXCELLENT.
Available in: RSE and ORAS (Aggron), Pearl (Bastiodon), Platinum (Probopass and Bastiodon), B2W2 (Probopass), X (Aggron and Probopass), Y (Probopass), Moon and UM (Bastiodon and Probopass), Sun and US (Probopass)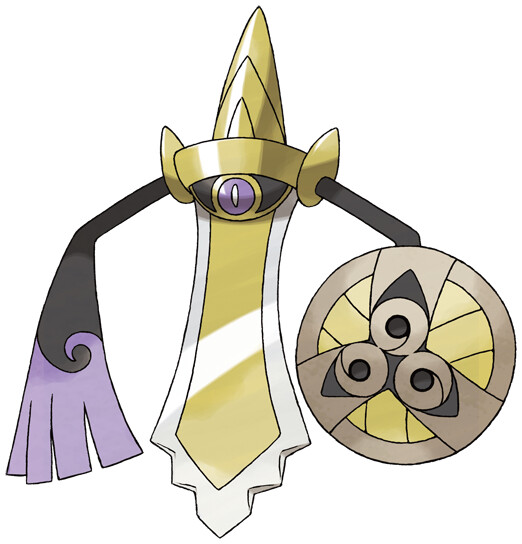 Aegislash
I kid you not, as of Sword and Shield, Aegislash has had a near perfect appearance record since its XY debut.  It also has a great habit of appearing relatively early in the respective games being available after the first gym in XY, on the second island via scanning in SM and USUM games, and Hammerlocke Hills in SWSH.  Okay, so why Aegislash?
A startlingly high Attack and Special Attack (150!) makes even substandard moves seem deadly in Aegislash's sword.  Heck, Aegislash's move distribution is alright but it doesn't really matter when you're packing stats like those right?  Honestly, teach it the likes of Sacred Sword, Shadow Sneak, Iron Head, and Shadow Claw and you're good!  Biggest disadvantage is obviously that bulk as it's offense mode has really low defense and HP and it's quite slow.  So if you're worried about survival you can keep it's signature King Shield ability which is quite helpful.  Still though, that immunity to Fighting is freaking sweet.
Available in: XY, SM and USUM (Island Scan), SWSH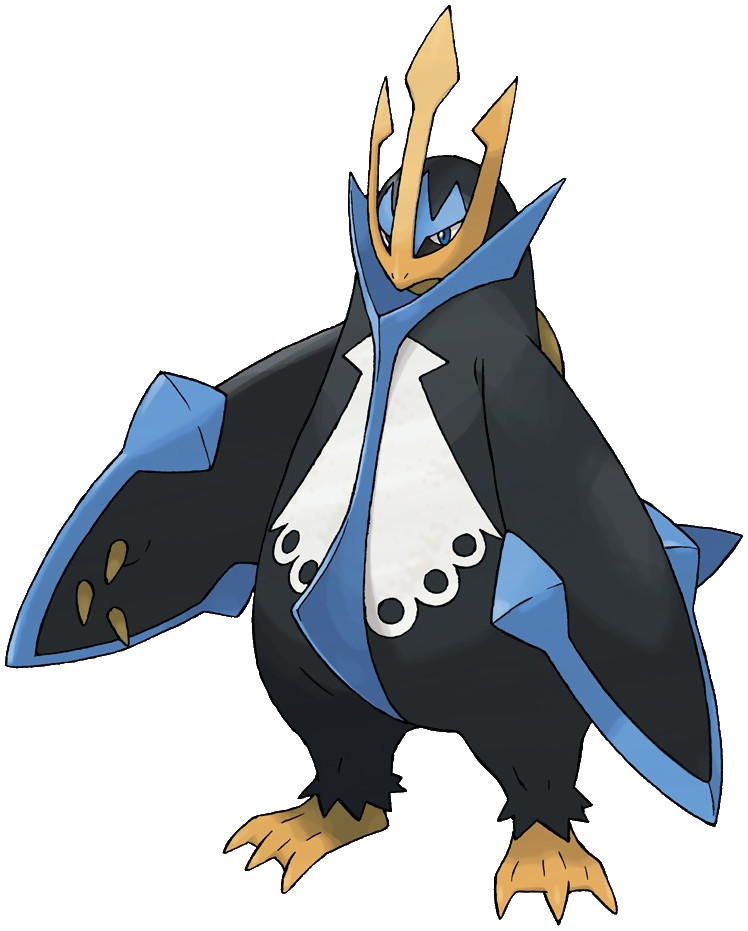 Empoleon
I debated whether to put Empoleon on here or not but I relented because despite its rarity, this starter has a lot of things going for it and is the reason why Platinum is good and USUM is stellar for a Steel run.  First, type combo.  Empoleon is, as of Gen VIII, the only Pokemon that is Water/Steel which is fantastic for your Fire foes but more importantly it gives you a crucial STAB against Ground and Fire Pokemon.  And second, amazing stats,  Empoleon has one of the higher Special Attacks among Steel Pokemon so this means you can use the killer combo of Surf and Ice Beam no problem.  And of course, if you're playing DPP, or the eventual Sinnoh remakes, you will start off with Piplup as you're starter which is such a blessing.
Available in: DPP (Starter), USUM (Island Scan)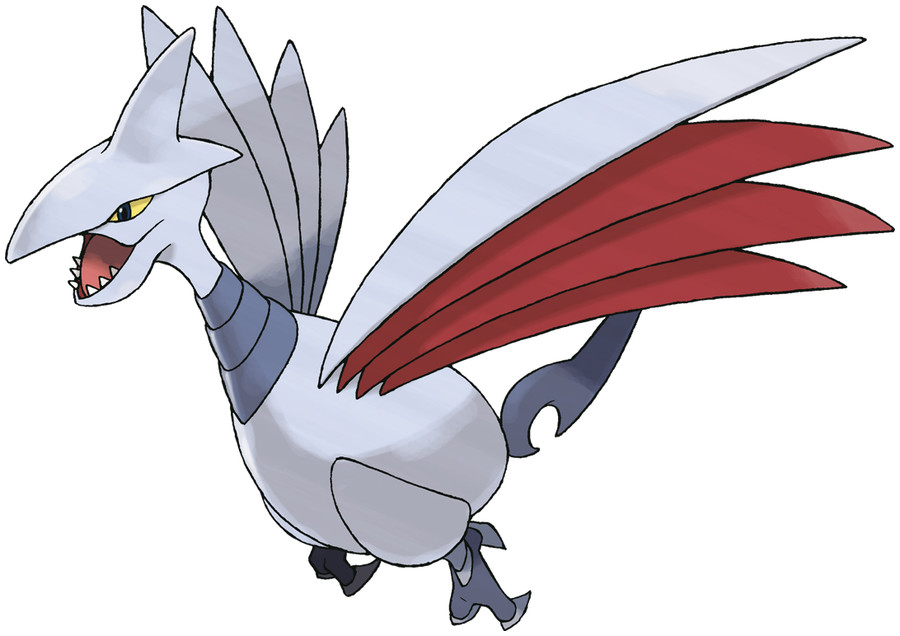 Skarmory and Corviknight
These two birds are important as they give you an immunity to Ground attacks and a resistance to Fighting attacks.  On the whole, you're more likely to run into Skarmory, who's surprisingly common, compared to the very recent Corviknight.  Unfortunately, that's about the extent of their usefulness.  Their movepool selection is rather small so their Flying moves are appreciated but they won't do much against your Ground opponents except stalling and whittling them down.  Skarmory also suffers from lack of physical Flying moves and it can only learn strong Special Flying moves by leveling up which it fails to use due to its low Special Attack.  Like, come on, Gamefreak, at least give Skarmory Drill Peck or something…TMs and Move Tutors are nice but doesn't do much for Skarmory.
Honestly, Skarmory is a fantastic example of just because it blocks your weaknesses doesn't mean it's useful.   Skarmory may be great for a Flying Run but given the option I would go for Metagross/Aegislash and Ferrothorn/Durant before picking it up.
Available in: Skarmory in Silver, Crystal, RSE, SoulSilver, B2W2, ORAS, XY, SM, USUM.  Corviknight in SWSH