I feel so sorry for the Rock type.  There are many Rock-only runs that are borderline great but fall short due to late availability, limited diversity or weakness exposure.  Yet there are a few Pokemon games that are pretty good for a Rock Monotype Run.  A Monotype Run is a self-imposed challenge where you only catch and train one type of Pokemon in the games.  In this case, you can be like Brock but better!  So let's take a look which games you should play (and avoid) and which Pokemon you should definitely have on your team!  Let's Rock and Roll!
Rules
Only Pokémon of a certain type may be caught and trained.
You must catch the first Pokémon available of that type if your starter does not match that type (you'll then have to discard that starter).
You may train a Pokémon that evolves to said type as long as you do it ASAP.
No outside trading allowed.
Mega Pokémon count as long as you Mega Evolve them as soon as they appear on the battlefield.
Only Pokémon caught before Elite Four are counted.
Best Games
Rock's biggest downfall is its struggle to deliver an early available Pokemon.  There are no starters (yet) that evolve into it and you can't catch one until after the first gym in over half the games.  You also have a big lack of diversity with a lot of lackluster Rock/Ground or Rock/Water Pokemon filling up your slots.  So (most of) the games I recommend push for that early availability and diversity.
As such, the best games, by technicality, would be Sword/Shield.  Not only do you catch a Chewtle by Route 2, all your weaknesses are covered before the first gym thanks to the Wild Area (which is good since the gym is Grass oriented).  Also, that Coalossal is niiiiice, good way to stick it to your Steel and Grass foes!  You can also get two Pokemon with the Sand Stream Ability (Gigalith and Tyranitar in Shield).
If you can stomach the wait, you might want to consider XY.  Yes, I know the first Pokemon you get isn't until well after the first gym but holy crap once you get your first Rock Pokemon the rest will come crashing down on you like an avalanche!  You get Dwebble and Binacle back to back; then Glittering Cave gives you a host of them, and then you revive either Tyrunt or Amaura; all before the second gym.  Also, you get the very rare Aerodactyl!!  Y edges out X due to the version exclusive Tyranitar (which again, has Sand Stream), but X gets Aggron so it's a dinosaur trade-off!
I'm just going to throw this out there because why not but think about HeartGold and SoulSilver.  You get a Geodude very early in the southern tip of Route 46 and an Onix/Geodude in the Pokewalker.  Also, HGSS has Magcargo AND Tyranitar which the original games do not have so that's cool.  You're a bit limited in diversity so just keep that in mind!
Worst Games
Oh man, which one should I choose???  They're all so tempting.  I mean, to be fair, a lot of these games are just riding hard on that meh horse.  Some of the games you just have to wait until after the first gym and then after that it's fine.
I think I'm going to give it to Pokemon Diamond.  Your full team is a Graveler, Onix, Sudowoodo, and Rampardos so you are exposed to every single one of your five weaknesses.  In fact, the DPP series are the only games where Rock doesn't neutralized its weaknesses!  I know, crazy, right?  Pearl switches Rampardos with Bastiodon and Platinum gives you Rhydon and Probopass but it's still not great.  
Also, Kanto games are really rough.  You get a Geodude after the first gym and that's it for a looooong time.  You have to take that Geodude to Misty (Water), get an easy break with Surge (Electric), and then after catching Onix you face Erika (Grass).  It's going to take a long time before you can finally go to Cinnabar and revive Aerodactyl and another Fossil Pokemon.
Rock Teams in Pokemon Games
Red, Blue, Yellow, FireRed, LeafGreen
Ideal Team: Graveler, Rhydon, Onix, Aerodactyl, Omastar/Kabutops
First Pokémon: Geodude at Mount Moon after first gym
Covers weaknesses? Surprisingly, yes
Gold, Silver, Crystal, HeartGold, SoulSilver
Ideal Team: Tyranitar (HGSS via Safari), Rhydon, Graveler, Sudowoodo, Corsola, Magcargo (HGSS)
Optional: Shuckle, Onix
First Pokémon: Geodude via southern portion of Route 46 before the first gym; via Pokewalker then Geodude (Rugged Road in 0+ steps) and Onix (Rugged Road in 4000+ steps or Dim Cave in 1000+ steps) are available.
Covers Weaknesses? Yes
Note: In HGSS, you can get a Slugma Egg from Primo in Violet City center.  You'll need to give him a phrase which is dependent on your Trainer ID which you can receive here.
Ruby, Sapphire, Emerald, OmegaRuby, AlphaSapphire
Ideal Team: Rhydon, Aggron, Lunatone (S, AS)/Solrock (R, E, OR), Magcargo, Relicanth, Armaldo/Crustle (ORAS)
Optional: Graveler, Cradily, Boldore (ORAS), Barbaracle (ORAS)
First Pokémon: Geodude and Aron (RSE only) via Granite Cave shortly before the second gym
Covers Weaknesses? Yes
Diamond, Pearl, Platinum
Ideal Team: Graveler, Onix, Rampardos (Diamond and Platinum)/Bastiodon (Pearl and Platinum), Probopass (Platinum), Sudowoodo, Rhydon (Platinum)
First Pokémon: Geodude either Oreburgh Gate or Ravaged Path before the first gym
Covers Weaknesses? No, in all versions Water, Ground and Fighting moves are not neutralized. In Diamond, the Rock type is additionally weak to Grass and Steel moves.
Note: Please be aware that you can only get Rampardos OR Bastiodon in Platinum!  It depends on your Trainer ID number.  If the last digit is even you get a Bastiodon and if it's odd you get a Rampardos.
Black, White, Black2, White2
BW Ideal Team: Boldore, Crustle, Carracosta, Terrakion
Optional: Archeops
First Pokémon: Roggenrola via Wellspring Cave after first gym
Cover weaknesses? Yes, if you pick Carracosta over Archeops as it gets rid of the Steel and Water weakness.
B2W2 Ideal Team: Crustle, Corsola, Terrakion, Aggron, Probopass, Lunatone
Optional: Onix, Gigalith, Solrock, Shuckle
First Pokémon: Onix and Roggenrola via Relic Passage (Castelia City side) after the second gym
Cover weaknesses? Yes
Note: You can get a Gigalith from a hiker on Route 7
X, Y
Ideal Team: Tyrantrum, Barbaracle, Crustle, Aerodactyl, Probopass/Aggron (X), Tyranitar (Y)/Lunatone
Optional: Solrock, Aurorus, Relicanth, Rhydon, Onix, Boldore, Carbink, Corsola, Graveler, Magcargo, Shuckle, Sudowoodo
First Pokémon: Dwebble and Binacle via Rock Smash in Ambrette Town.  This is well into the game but is still before the second gym. Get the Rock Smash TM from the girl outside of the Aquarium.  You can then get Rhyhorn, Onix, Solrock, and Lunatone almost immediately afterwards in Glittering Cave with the fossils following shortly thereafter.
Weaknesses Covered? Yes
Sun, Moon, UltraSun, UltraMoon
SM Ideal Team: Rhydon(scan), Aerodactyl, Relicanth/Caracosta(Sun), Bastiodon(Moon)/Probopass, Lycanroc, Golem
Optional: Sudowoodo, Rampardos (Sun), Archeops (Moon), Carbink, Corsola, Boldore, Minior
First Pokémon: Bonsly via Route 1, after the Grand Trial
Cover weaknesses? Yes
Note: You can get an Alolan Golem via in-game trade at the Tapu Village Pokemon Center, you will need a Haunter.
USUM Ideal Team: Tyrantrum (US)/Lycanroc, Rhydon(scan), Tyranitar, Aerodactyl, Relicanth/Caracosta(US), Bastiodon(UM)/Probopass
Optional: Lycanroc, Sudowoodo, Rampardos (US), Archeops (UM), Omastar (US), Kabutops (UM), Graveler, Armaldo (US), Cradily (UM), Carbink, Aurorus (UM), Boldore, Corsola, Minior, Onix (scan)
First Pokémon: Bonsly via Route 1, after the Grand Trial
Cover weaknesses? Yes
Sword, Shield
Ideal Team: Crustle, Drednaw, Coalossal, Stonjourner (Sword)/Tyranitar (Shield), Gigalith, Solrock (Sword)/Lunatone (Shield)
Optional: Sudowoodo, Rhyperior (Raid), Shuckle, Onix, Barbaracle
First Pokémon: Chewtle by overworld (10%) via Route 2.
Weaknesses Covered? Yes, and it's taken care of before the first gym!  Which is good because it's Grass, see if you can evolve your Rolycoly before you fight Milo otherwise you might need to lean on Dwebble.  Also, get the Sandstream Ability from Gigalith.
MVP (Most Valuable Pokemon)

Tyranitar
The most powerful non-Mega Rock Pokemon, Tyranitar is the go to guy for your team.  There are just so many reasons why you should have one on your team.  It has incredible stats (600 BST) making it stronger than Legendary Rock Pokemon like Terrakion and it can hit hard and take a beating.  It also has among the best move diversity for Rock Pokemon; it can naturally learn powerful Rock, Ground, and Dark moves and be taught fantastic Electric, Fire, Ice, Ghost, Dragon, Steel, and Fighting moves.  Tyranitar is further boosted by its Sand Stream ability which automatically starts Sandstorm and gives all your Rock Pokemon a 50% increase in Special Defense stats (which a lot of them need).
All the games that I recommend for a Rock playthrough have Tyranitar which is its main problem.  It's not very common.  Sometimes they're non-existent or just show up too late like GSC or the Black/White games.  Also, Tyranitar evolves really late (level 55) so you won't be able to use its Sand Stream ability until the end of the game.  You might have to babysit it for awhile but man it will be awesome when you finally evolve it!
Available in: HGSS, Y, USUM, Shield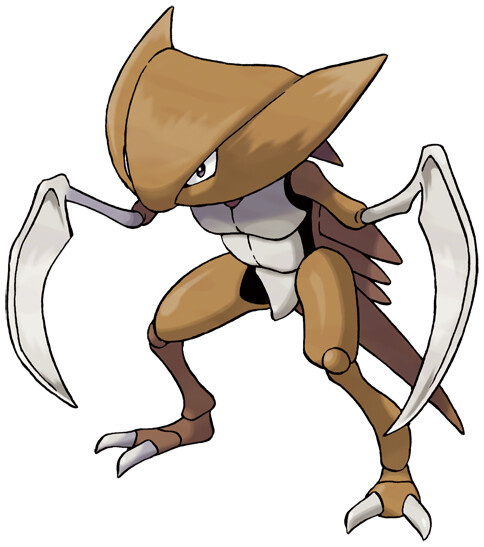 Rock/Water Pokemon
The Rock Type has a ton of weaknesses (Grass, Water, Steel, Ground, and Fighting) yet oddly, every game except the Sinnoh series neutralizes its weaknesses.  And that's because you have the stellar combo of a Rock/Water Pokemon with a Rock/Flying or Rock/Bug Pokemon.  If you have an Omastar with Aerodactyl or a Carracosta with Crustle on your team then you're set!  All your weaknesses are covered.
Rock/Water Pokemon like Kabutops, Drednaw, and Relicanth are available in every region except Sinnoh (which is why Sinnoh games are bad for Rock runs).  Having that Water typing gives you some great diversity juice with the likes of Water and Ice attacks.  Unfortunately, some of these Pokemon are lackluster (like Corsola) but you get some pretty good ones!  Omastar has the highest Special Attack stats for all non-Legendary Rock Pokemon and Barbaracle is really strong and further boosted by its Tough Claws Ability.
Available in: Every game except Diamond, Pearl, and Platinum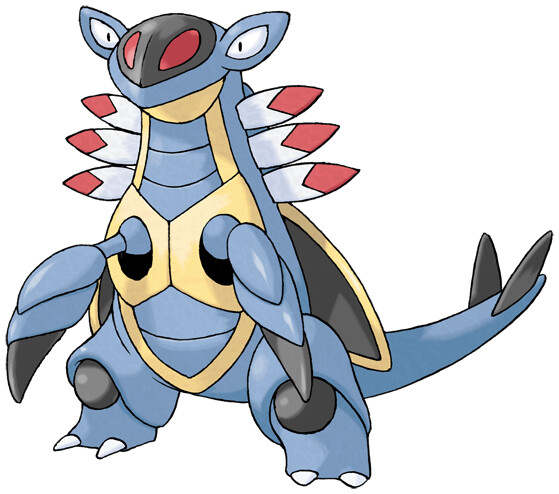 Armaldo, Crustle, and Shuckle
Paired up with your Water Pokemon are your bugs who neutralize the other weaknesses (Fighting, Grass, and Ground)!  These guys are also relatively common in the series so you could run into one during your journey.  Obviously, Shuckle…not that fun to train!  Great for the metagame but training one on your Rock team…?…bleh.  That's why Armaldo and Crustle are the go to Pokemon for your team.  Great Attack and Defense stats and just overall very appealing Pokemon!  I like their designs and concepts.  Unfortunately, not a lot of move diversity going on here but at least Armaldo can learn some decent Water moves like Aqua Tail and Aqua Jet.  Also, teach your Crustle Body Press in Sword and Shield; the move's power is based on the user's defense which is fantastic for Crustle (125).
Available in: GSC (Shuckle), RSE (Armaldo in all three and Shuckle in Emerald), HGSS (Shuckle), BW (Crustle), B2W2 (Crustle and Shuckle), XY (Crustle and Shuckle), ORAS (Armaldo), US (Armaldo), SWSH (Shuckle and Crustle)

Aggron, Bastiodon, and Probopass
Among the best Rock Pokemon for Defense and Special Defense stats, these three Rock/Steel Pokemon are going to be the tanks on your team.  They can also block Grass and Steel attacks but with a trade-off of the 4x weakness to Fighting and Ground moves.  Still, these guys are great.  Really lean into defense and support moves for Probopass and Bastiodon but for Aggron just go all out offense!  It can learn a variety of moves like the elemental punches, Dragon Claw, and Aqua Tail which are all very great and Aggron ranks among the best Rock Pokemon for move diversity.  Unfortunately, you can't Mega-evolve Aggron in ORAS as it loses its Rock typing but it's still a great Pokemon all the same.  And who doesn't want a ceratopsian on your team?!  You can get two here!
Available in: RSE and ORAS (Aggron), Pearl (Bastiodon), Platinum (Probopass and Bastiodon), B2W2 (Probopass), X (Aggron and Probopass), Y (Probopass), Moon and UM (Bastiodon and Probopass), Sun and US (Probopass)

Aerodactyl
The fastest Rock Pokemon around with a fantastic 130 stat, Aerodactyl is the must-have flying reptile for your team.  First, it has an immunity to Ground moves and counters Fighters and Grass Pokemon easily.  Pair this up with your Omastar or Kabutops and you're all set!  But also, Aerodactyl carries some really nice moves like Iron Head, Crunch, elemental fangs, and Dragon Claw.  Aerodactyl can be set up like a revenge sweeper just going in and quickly wiping out the opposing team before they can do too much damage.
Two big setbacks.  The first is that Aerodactyl is pretty awful in learning Flying moves mainly Wing Attack, Sky Drop, Aerial Ace, or Fly.  Not a lot of good choices to choose from.  Also, despite having the Rock Head ability, Aerodactyl doesn't learn a lot of recoil moves.  Mainly Double Edge and Take Down and that's it.  Not even Head Smash, a Rock-type move!  Boo!
Available in: RBY, FRLG, XY, SM, USUM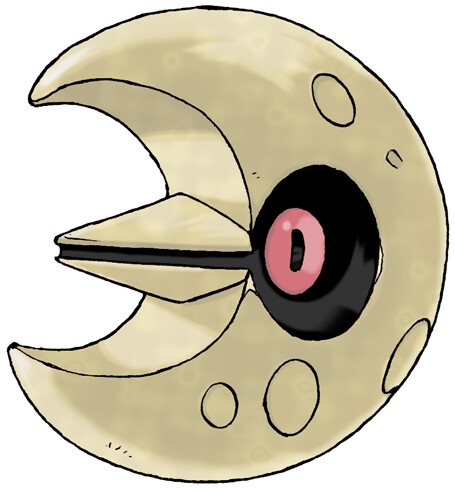 Lunatone
I was really debating about putting this meteorite in but I figured why not.  Lunatone is an overall…alright Pokemon!  It's the kind of Pokemon that makes you shrug and say yeah, it's not bad!  For a Rock team, I think it's pretty special; it has the Levitate Ability (so no Ground weaknesses) and its Psychic typing counters Fighters and gives you some interesting move diversity.  Lunatone ranks among the best Rock Pokemon for Special Attack with an alright 95 power!  Haha.  Not a lot but hey, beggars can't be choosers.  But with that, it can use all its awesome Fairy moves like Moonblast as well as Shadow Ball, Psychic, Power Gem, and Ice Beam.  Pretty good for a Rock Pokemon!
But where's Solrock…?  Well…Solrock and Lunatone may be similar with its typing, and ability but its their stats that makes a difference.  Each of their stats are the same but rearranged differently and for Solrock, its Physical Attack is 95.  So two problems, one, a lot of other Rock Pokemon can match that stat or better and two, Solrock FAILS tremendously on its moveset.  Solrock packs mainly Special moves but can't use them at all with its puny 55 Special Attack stat.  It's really sad.  That's why you should go for Lunatone instead.
Available in: Sapphire, Black2, White2, XY, AlphaSapphire, Shield