Would you be surprised if I told you that the Flying Type in Pokemon is among the best types ever to do a Monotype Run??  In fact, it's so good, I'd rate it as the third best behind Water and Normal Type.  Why is that?  Well, you can find a plethora of Flying Pokemon throughout the games, with very few exceptions you can catch your first Flying Type before the first gym (and even as a Starter!), and it's surprisingly easy to cover their weaknesses.  The diversity Flying Pokemon have is absolutely amazing and they were the first of the 18 types to be paired with every other type.  You will have a fun time with this often overlooked team of Pokemon.  Let's take a look at the best and worst games in the series for a Flying Type Run and which Pokemon you should be looking out for!
Rules
Only Pokémon of a certain type may be caught and trained.
You must catch the first Pokémon available of that type if your starter does not match that type (you'll then have to discard that starter).
You may train a Pokémon that evolves to said type as long as you do it ASAP.
No trading allowed.
Mega Pokémon count as long as you Mega Evolve them as soon as they appear on the battlefield.
Only Pokémon caught before Elite Four are counted.
Best Games
Okay, so here's the thing.  There's quite a few Pokemon games that I would recommend for a Flying Type Run, in fact if you go to my game-specific articles, you will frequently find Flying as among the best types in each game.  So writing about every single game that does well would be time consuming and frankly bloated so let's keep it short.
Old school games hold up well here but I really like the Kanto and Johto games as their Flying diversity is almost unparalleled and you can train the likes of the Legendary Birds, Charizard, and Aerodactyl in Kanto and Xatu, Skarmory/Gligar, Crobat, and Ho-oh/Lugia in Johto.  In both games you can also train Gyarados, Dragonite, a host of Normal/Flying Pokemon, and many bugs as well.  The Johto remakes, HGSS, also get a boost with the likes of Yanmega, Honchkrow, and Gliscor (all of which I love, love, love, love!).
If I had to pick one series of games that are the best it would be Pokemon XY.  No other games in the entire series comes close to matching the diversity of Flying Pokemon here as you can train over 30 unique families!!  This diversity means you can constantly switch in and out certain Pokemon and pick a whole host of favorites without feeling too constrained by type weaknesses.  The fact you can get a Charizard, Aerodactyl, Yanmega, Gliscor, and Salamence really sells it for me.
Worst Games
Pokemon Black/White are the worst games for a Flying Type Run.  What's funny is that this team is not necessarily bad just not as good as other games.  The biggest drawback is that "late" first Pokemon which you can only get after the first gym (Black/White are the only games in the entire series to do this).  This is also the game with the lowest amount of Pokemon you can train and you're exposed to your weaknesses.  Still though, you can get a full team of unique flyers and you can train the likes of Sigilyph, Archeops, and Emolga.  Ironically, Black and White are also the only games in the series where you can catch either a Tornadus (Black) or Thundurus (White) before the Championship and they're really good Flying Pokemon.  B2W2 are so much better so you should go for those.  You can train a Gliscor, Skarmory, Vespiquen, and many others!
Pokemon Games and their Flying Teams
Pokemon RBY and FRLG
Ideal Team: Charizard, Dragonite, Aerodactyl, Gyarados, Zapdos, Articuno
Optional: Pidgeot, Fearow, Dodrio, Scyther (Red, FireRed, Yellow), Moltres, Butterfree, Golbat, Farfetch'd
First Pokémon: Charmander via starter or Pidgey (Yellow) via Route 1.
Covers Weaknesses? No, Rock is not covered.
Pokemon GSC and HGSS
Ideal Team: Gyarados, Dragonite, Gligar/Gliscor (G, C, HG)/Skarmory (S, C, SS), Murkrow/Honchkrow, Jumpluff/Togekiss (HGSS), Xatu
Optional: Dodrio, Pidgeot, Spearow, Mantine (G, C, HG), Crobat, Yanma/Yanmega, Scyther, Ledian, Butterfree (G, C, HG), Farfetch'd, Ho-Oh (G, HG), Lugia (S, SS)
First Pokémon: Pidgey and Hoothoot via Route 29 before the first gym.
Via Pokewalker Pidgey (Refreshing Field at 0+ steps), Doduo (Refreshing Field at 2000+ steps), Spearow (Noisy Forest at 0+ steps), Hoothoot (Rugged Field at 0+ steps and Suburban Area at 0+ steps), Murkrow (Suburban Area at 1000+ steps), Zubat (Dim Cave at 0+ steps), and Dratini (Blue Lake at 5000+ steps) are available.
Covers Weaknesses? Yes, regardless of your version
Pokemon Ruby, Sapphire, Emerald, and ORAS
Ideal Team: Gyarados, Salamence, Swellow, Ninjask, Skarmory, Xatu
Optional: Beautifly, Masquerain (R, S, ORAS), Pelipper, Crobat, Altaria, Tropius, Honchkrow (ORAS), Drifblim (ORAS), Mega-Pinsir (ORAS), Mandibuzz (ORAS), Chatot (ORAS), Unfezant (ORAS), Pidgeot (ORAS), Braviary (ORAS), Rayquaza (Emerald)
First Pokémon: Wurmple via Route 101
Covers Weaknesses? Yes
Pokemon Diamond, Pearl, and Platinum
Ideal Team: Gyarados, Vespiquen/Yanmega (Platinum), Drifblim, Honchkrow (Diamond), Gliscor (Platinum), Tropius (Platinum)
Optional: Staraptor/Noctowl/Chatot/Togekiss (Platinum), Pelipper/Mantine
First Pokémon: Starly via Route 201
Covers Weaknesses? Only in Platinum, in Diamond and Pearl the Electric and Rock types are not neutralized.
Pokemon Black/White and Black2/White2
BW Ideal Team: Tornadus (B)/Thundurus (W), Sigilyph, Archeops, Emolga, Swanna, Braviary (W)/Mandibuzz (B)
Optional: Swoobat, Unfezant
First Pokémon: Pidove via Route 3 after the first gym
Cover weaknesses? No, Rock is not neutralized.
B2W2 Ideal Team: Skarmory, Gliscor, Emolga, Altaria, Swanna, Sigilyph
Optional: Swoobat, Crobat, Unfezant, Drifblim, Mantine, Pelipper, Mandibuzz (B2)/Braviary (W2), Delibird, Vespiquen
First Pokémon: Pidove via Route 20 before the first gym
Cover weaknesses? Yes
Pokemon XY
Ideal Team: Talonflame/Charizard, Gyarados, Gliscor, Salamence/Dragonite, Aerodactyl, Honchkrow
Optional: Ninjask, Mothim, Butterfree, Swanna, Pelipper, Swellow, Vivillon, Jumpluff, Swoobat, Crobat, Drifblim, Emolga, Hawlucha, Sigilyph, Staraptor, Mantine, Fan Rotom, Skarmory, Noivern, Pidgeot, Altaria, Scyther, Yanmega, Delibird
First Pokémon: Pidgey, Scatterbug, and Fletchling via Route 2
Weaknesses Covered? Yes, and in more ways than one.  You can have several different team matchups and still have your bases covered.
Pokemon Sun/Moon and Ultra Sun/Ultra Moon
SM Ideal Team: Toucannon, Gyarados, Drifblim, Aerodactyl, Salamence, Skarmory
Optional: Braviary (Sun)/Mandibuzz (Moon), Crobat, Talonflame, Masquerain, Honchkrow, Minior, Fearow, Staraptor (scan), Oricorio (4 forms), Dartrix
First Pokémon: Rowlett via Starter
Cover weaknesses? Yes
USUM Ideal Team: Toucannon, Gyarados, Charizard (scan), Aerodactyl, Salamence, Skarmory
Optional: Braviary (US)/Mandibuzz (UM), Crobat, Talonflame, Masquerain, Honchkrow, Minior, Xatu, Tropius, Hawlucha, Noivern, Pidgeot, Fearow, Noctowl, Drifblim, Oricorio (4 forms), Dartrix
First Pokémon: Rowlett via Starter
Cover weaknesses? Yes
Pokemon Sword and Shield
Ideal Team: Corviknight, Noivern, Sigilyph, Togekiss, Gyarados, Hawlucha
Optional: Swoobat, Braviary (Sword), Mandibuzz (Shield), Xatu, Noctowl, Unfezant, Butterfree, Pelipper, Delibird, Ninjask, Vespiquen, Drifblim, Fan Rotom, Cramorant, Mantine
First Pokémon: Rookidee by overworld (30%) and Hoothoot and Caterpie by random encounters (5% and 15%) via Route 1.
Weaknesses Covered? Yes
MVPs (Most Valuable Pokemon)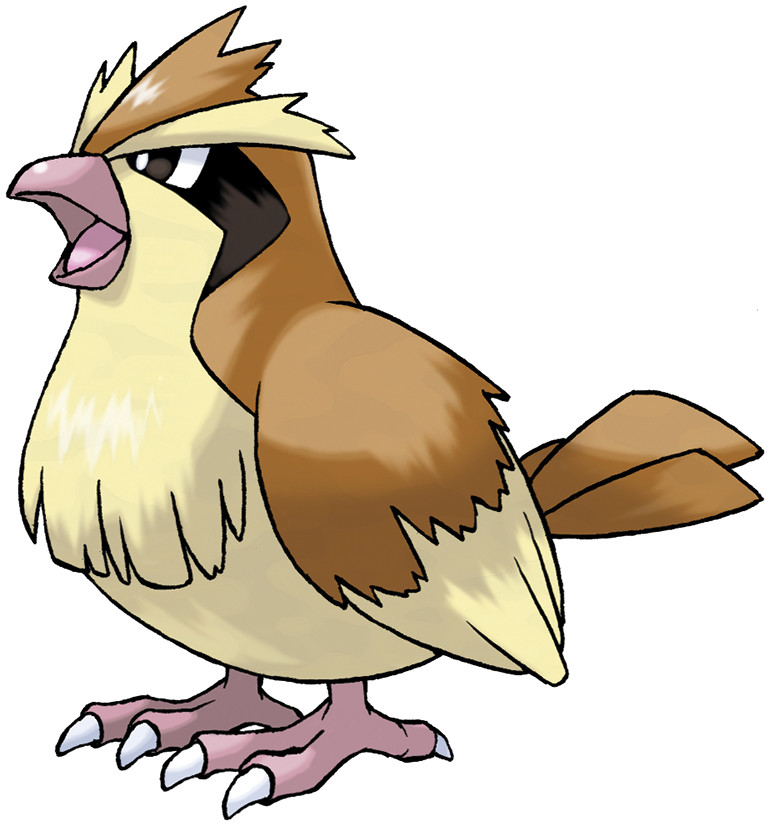 The Early Bird
In every single Pokemon game, excluding Pokemon Black and White, you can catch a Flying Pokemon on the first route.  These birds are the primary reason why the Flying type is amazing for a Monotype Run.  They evolve into a strong final form who can pack quite a punch!  Most of them can learn Dark, Bug, Fighting, and Steel moves which is nice.  Really the biggest thing that's holding (most of) them back is their Normal typing which doesn't offer much for diversity and defense.
One thing I'm beginning to notice about these birds is that Gamefreak is making them more and more unique in later generations.  Up until Generation 5 they were pretty similar but in Gen 6 we got Talonflame with its nice Fire/Flying combo, Toucannon has a super high Attack stat which goes well with Beak Blast, and now Corviknight offers an amazing defense with its Steel/Flying.  They really make those later generations that much better for a Flying run.
Available in: Every game's first route except BW who only appear after the first gym.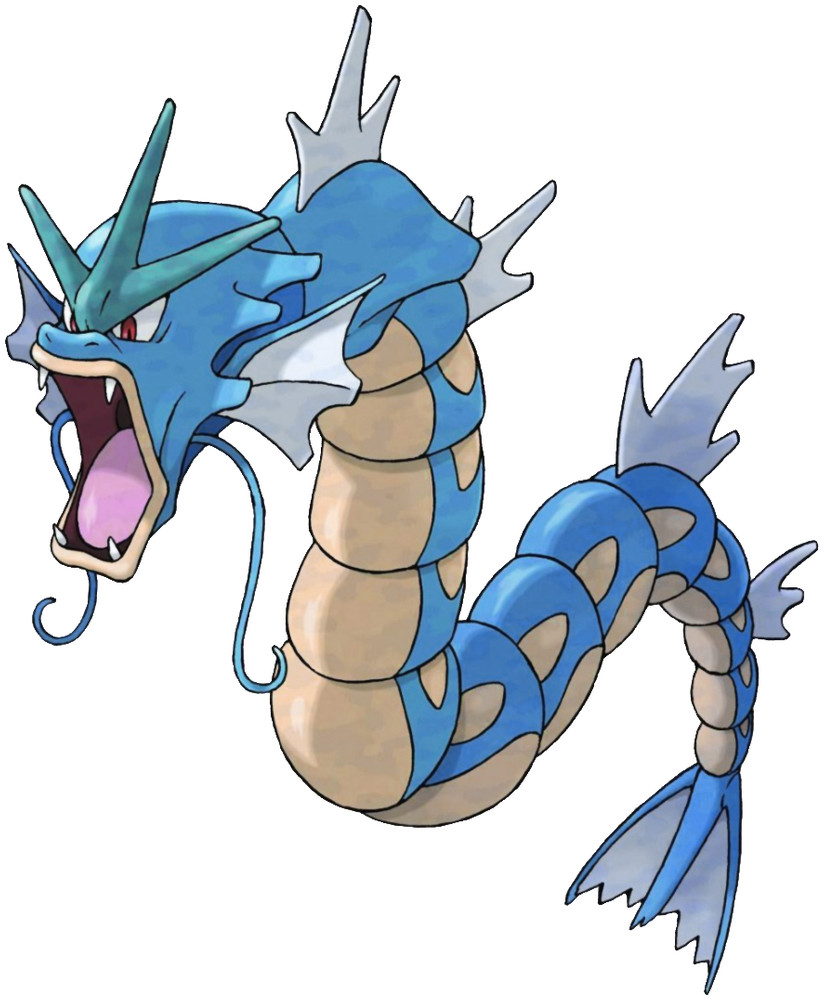 Gyarados (and other Water/Flying Pokemon)
There since Generation 1, Water/Flying Pokemon are rather ubiquitous in their occurrences.  Six out of the so far eight generations have introduced at least one new Water/Flying Pokemon and every game contains at least one catchable family.  The Water typing gives your team access to moves you may otherwise lack mainly Water and Ice attacks.  You also get a nifty neutralization from Ice moves and a STAB attack against Rock Pokemon with the trade off being that 4x weakness to Electric (which honestly, as far as problems go, this one is at least manageable).  Although Swanna and the others are fine the best one by far is also the most common and of course I'm talking about Gyarados.
I cannot stress how important it is to have Gyarados on your team, especially starting Gen 4 onwards.  The physical/special split really benefited Gyarados' high Attack stats so it can use Waterfall incredibly well.  Although Gyarados' Flying movepool is pretty poor, that's okay as you have at least five other team members who can more than make up for this.  You can teach Gyarados anything from Outrage to Iron Head, Ice Fang to Crunch, and most delicious of them all, Dragon Dance.  I would say your biggest problem is its Magikarp stage but given that it evolves at level 20 it's honestly not even that big of a deal considering you would be at your second or third gym by then.
Available in: Every game.  Gyarados can be found in every game except Black/White and B2W2.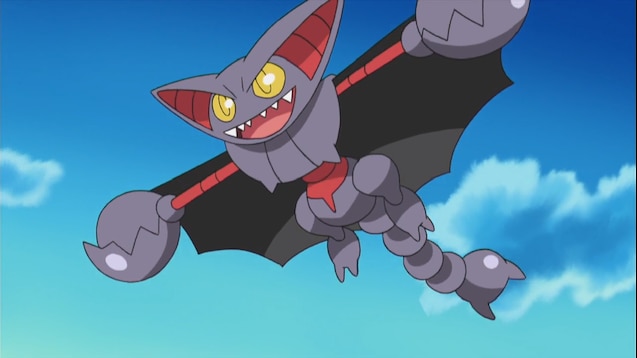 Gliscor/Gligar
So once you get your Gyarados the next question you should ask is, can I get a Gligar or Gliscor?  Gliscor pairs amazingly well with your Water Pokemon thanks to its immunity to Electric moves (which is really nice) and Rock neutralization.  Not only that, a STAB Earthquake attack is sooooo gooooooood and can really stick it to any Electric or Rock Pokemon that trouble you.  Gliscor also knows a variety of elemental fang attacks, Rock Slide (nice), Poison Jab (Poison is surprisingly rare for Flyers), and some very strong Dark and Bug moves.
Like Gyarados, Gliscor suffers from an okay selection of Flying moves and a 4x weakness, this time to Ice attacks (this is not too bad as Gliscor will already be avoiding Water Pokemon anyway).  Gliscor is also not that common so pay attention to that when you pick your games.  And finally, Gliscor did not become available until gen 4 so if you're playing Gen 2 then you're stuck with Gligar.  Thankfully, don't fret about your Electric or Rock weaknesses as there are other Pokemon to help you out like…
Available in: Gold, Crystal, Platinum, HeartGold, B2W2, and XY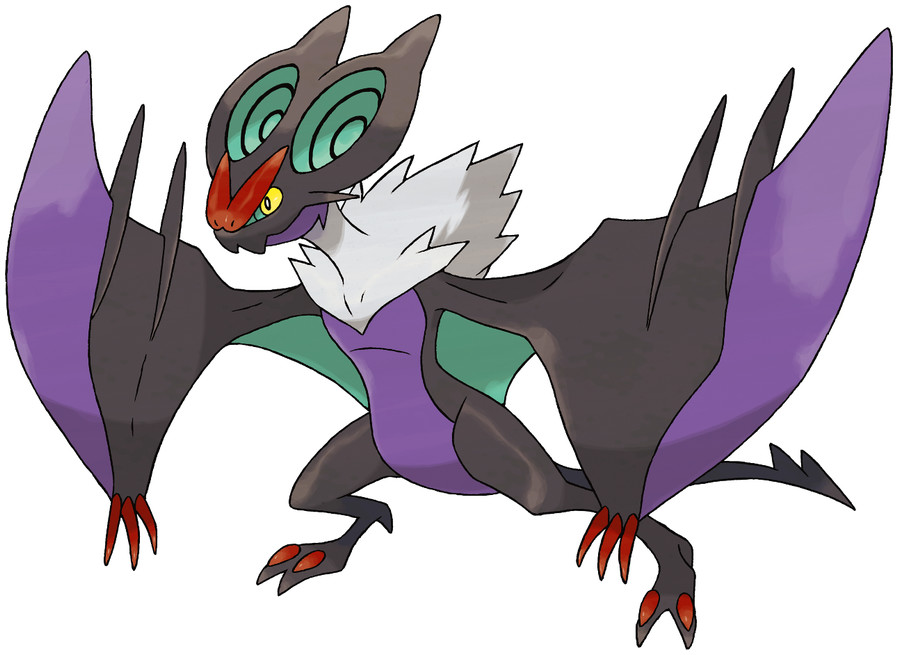 Dragon/Flying Pokemon
Neutralizing your Electric problems (with a 4x weakness to Ice moves) are the Dragons who are amazing additions to your team.  The four Pokemon are really common and it would be hard to miss one for your team.  Salamence and Dragonite are the strongest, non-Legendary, non-Mega Flying Pokemon.  They can deliver powerful attacks both physical and special, they are fast, and they can take the hits.  You also have the plethora of moves they can learn which adds a lot of necessary diversity to your team.  They both can learn Earthquake to take care of your Electric foes.  They are frankly wonderful.  Your biggest downsides for these two are their late game appearances compounded by late evolutions which means you'll have to be very patient if you want one on your team.
On the flip side you have Noivern and Altaria, who trade their lower stats for easier training and commonality.  Altaria…it's alright…nothing too special, but it does learn Moonblast, one of the few Flying Pokemon that can learn a strong Flying move.  Noivern is definitely where its at though both with speed and design.  Its decent Special Attack stat means you can use some great moves like Boomburst, Flamethrower, Psychic, and Shadow Ball.  I also like how you can catch Noibat relatively early in Pokemon SWSH.
Available in: RBY and FRLG (Dragonite), GSC and HGSS (Dragonite), RSE and ORAS (Salamence and Altaria), B2W2 (Altaria), XY (all four), SM (Salamence), USUM (Salamence and Noivern), SWSH (Noivern)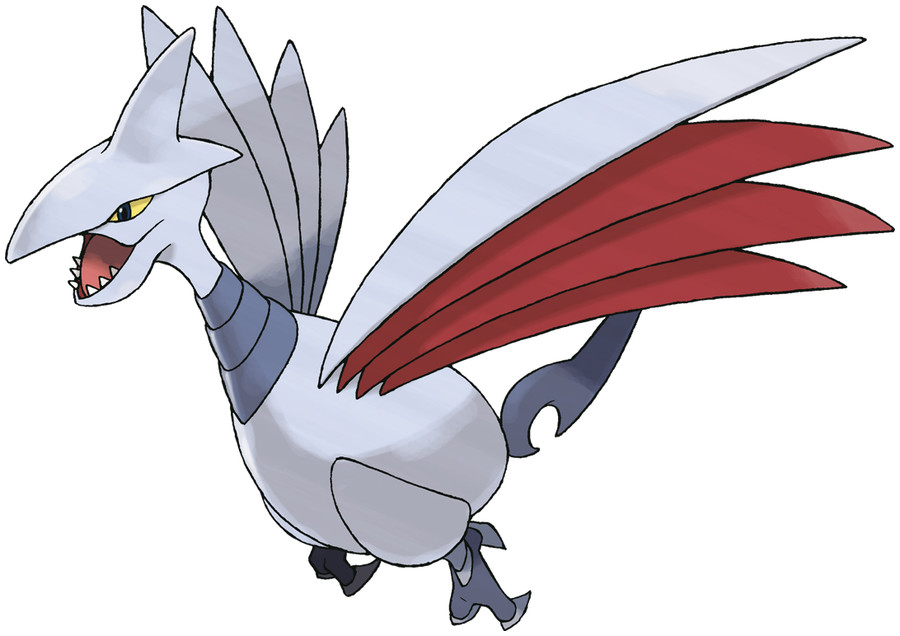 Skarmory and Corviknight
Taking care of your Rock and Ice weaknesses (pairs nicely with your dragons…) are Skarmory and Corviknight.  Steel/Flying is one of those type combos that works so extremely well.  The Flying type is immune to Ground and neutralizes the Fighting weakness and the Steel neutralizes Ice and Rock attacks.  Of the two, you're more likely to run into Skarmory, who's surprisingly common, compared to the very recent Corviknight.  Your main advantage in carrying these guys is defense so if you have a tricky opponent you can throw them out to stall or to dish out status-based moves.  Admittedly, their movepool selection is rather small but they can still learn the standard Steel moves which is nice to have against Rock and, especially, Ice Pokemon.
Available in: Skarmory in Silver, Crystal, RSE, SoulSilver, B2W2, ORAS, XY, SM, USUM.  Corviknight in SWSH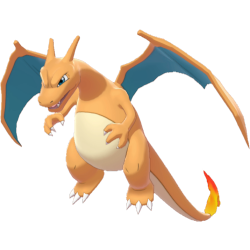 Charizard
I don't think you'll need me to convince you to train a Charizard!  It's Charizard!  Who wouldn't want to train one??
But it goes deeper than just pure joy of having one on your team.  First, Charizard, of course, is a starter.  You pick Charmander in RBY or FRLG and you're good to go!  You can also catch one just before Mount Moon in Let's Go and get one from a trainer after Mount Moon in Yellow.  So Charmander can be found relatively early if not the start of your game.  But! It can also be found outside of Kanto!  You can train one in both XY (with the bonus Mega Evolutions) and in Ultra Sun and Ultra Moon via Island Scan.  That's nice.  But you know what's also nice???  That movepool diversity is delicious.  Fire moves are stellar and all but you also have Dragon Pulse, Rock Slide, Earthquake, Thunder Punch, Shadow Claw, and Brick Break.  Excellent.  Biggest thing to worry about are Rock moves which are killer.  The Ice resistance is appreciated but a Pokemon that can learn an Ice move may be a Water type so that's a bit rough.  Regardless, Gamefreak's affection towards their favorite starter means you'll have a nice time with your fiery buddy.
Available in: RBY and FRLG (Starter), LG and Yellow, XY, and USUM (Via Island Scan), SWSH (via max raid battle but they are extremely rare, you can check it out here)